The floor and wall frames
Instructions
1. The Floor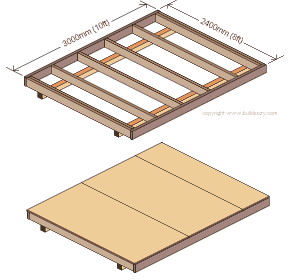 Position the two skids level and parallel on firm ground free of any vegetation.
Space the skids apart so that the inside measurement from skid to skid is 1600mm (64″).
Make up the floor frame consisting of 8 joists and 2 boundary joists to the dimensions as shown in the 'Skid and Joist Layout' plan.
Use a hard level surface such as a concrete drive or garage floor as a work area.
Use the 'Skid and Joist Layout' plan and the 'Materials List' for layout reference and individual member sizes and lengths.
The finished floor frame should be a rectangle 2400mm x 3000mm (8ft x 10ft).
When the floor frame is made, position it in place on top of the skids. Ensure the floor frame is a true rectangle (all corners are 90° / right angles) and then fix it to the skids. Toenail (angle nail) thru the joists into the skids.
Fix the 18mm (3/4″) plywood sheets to the floor frame. Use 60mm (2 1/2″) galvanized nails to fix the plywood floor to the floor frame nailing 150mm (6″) apart along the seams (where the sheets join) and a maximum of 200mm (8″) apart around the perimeter and along all intermediate joists.
2. The Wall Frames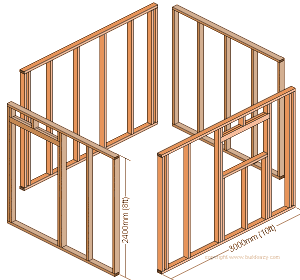 Cut the 100mm x 50mm (2″ x 4″) wall frame members to length as shown in the 'Wall Frame and Stud Placement' plan. Cut the longest pieces first to minimize wastage.
Make the wall frames up on even ground, referring to the 'Wall Frame and Stud Placement' plan which shows the placement of the studs from a bird's eye-view.
In this particular plan, the studs are spaced at 600 [2ft] crs or o.c.(which means "at centers" or "on center").
This means the studs are spaced apart 600 (2ft) from the center of one stud, to the center of the next stud (where possible).
Studs spaced at 600 [2ft] crs/o.c. are also placed appropriately to accommodate standard width 1200 [4ft] cladding panels, either exterior or interior.