The roof frame and the sheathing
6. The Roof Rafters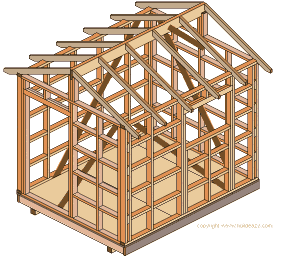 Cut the remaining eight intermediate rafters (see 'Rafter Detail' drawing) and fix in place, four each side. Spacings are shown in 'The Roof Plan'.
See the 'Nailing and Fastening Information' page for fixing instructions.
7. Roof Blocking
Measure and cut four rows of blocking to fit between the rafters. Place the rows each side of the side wall's top plates (see Picture). This is so the exterior Boards and Battens will have a straight edge at the top to butt up to.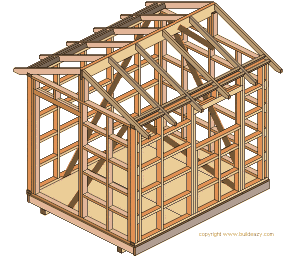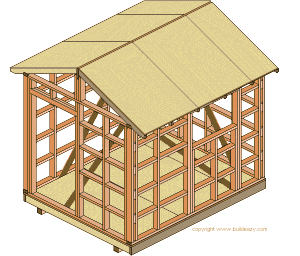 8. Roof Sheathing
Cover the roof with 12mm (1/2) inch plywood. Run the sheets from the apex to the ends of the rafters. The sheets will need cutting.
All joins must be over a rafter or under a purlin.
9. The Purlins
Nail three rows of purlins to each side of the roof, overhanging each end by 25mm (1″).
Fix the top row about 75mm (3″) down from the apex (this measurement will depend upon the width of the ridge capping, as the ridge capping is nailed to the top purlin), the bottom row flush to the ends of the rafters and another row in the middle.
Nail the lower end of the roof sheathing (from the underside) up into the bottom of the purlin.