The roof

trim

The finish materials in a building, such as narrow boards applied around openings (window trim, door trim) and vertical corner battens.

and roof cover
10. FasciaExterior horizontal visible flat front trim board that caps the rafter tail ends., Rake BoardExterior visible flat trim board that follows the rake of the roof. Also called barge board or gable fascia. and Builders FeltA building paper that envelops the exterior walls or roof frame prior to the cladding being fixed. Reduces air movement and helps avoid the risk of water ingress.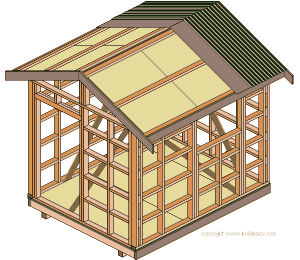 NailA short nail with a large flat head used for securing roofing felt, plasterboard, sheet metal to wood etc. the rakeAngle of roof. boards to the ends of the purlins along each gableThe roof ends and walls that form an inverted "V". rake and make flushBeing even with. with the top of the purlins.
Join the rake boards at the apex (verticalPlumb, upright. cut) and cut the other end vertically, 175mm (6″) past the ends of the rafters.
Cut and fixTo secure with nails or screws. the fascia boardThe top horizontal board cappingCovering the top ends of the rafters. to the ends of the rafters, between the rake boards.
Make the top edge of the fascia boardA piece of sawn, or dressed lumber of greater width than thickness. Usually 19mm (3/4") to 38mm (1 1/2") thick and 75mm (3") or more wide. flush with the top of the purlinTimber used to support roofing sheets. Usually fixed on top of rafters..
Cover the roof with builders felt prior to the corrugatedHaving alternating ridges and grooves. roofing ironCorrugated metal sheet used to clad roof. going on.
11. The Roof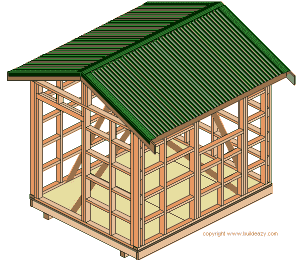 Fix the roofing iron to the purlins with appropriate roofing nails/screws.
Fix to the top and bottom purlins at every second corrugation and fix to the intermediate purlins at every 3rd or 4th corrugation.
Fix through the high side of the corrugation.
Overhang the roofing approx 65mm (2 1/2″) past the Fascia Board.
12. The RidgeThe horizontal line at the top of opposing sloping sides of a roof running parallel with the building length. CappingCovering and Rake FlashingAny piece of material, usually metal or plastic, installed to prevent water from penetrating the structure.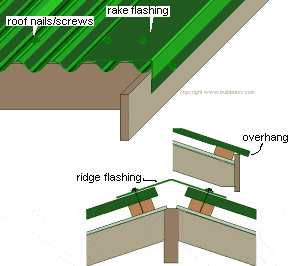 Standard ridge capping is about 130 (5″) each side of the apex, but can vary and any size can be made to order.
Have the ridge flashingFlashing that covers or caps the ridge of a roof. in mind when positioning the top Purlin.
Fix the ridge capping to the Purlin at every second corrugation.
The rake flashing goes under the ridge capping at the top.
Fix to each purlin (through two corrugations) and also to the side of the rake board.