The roof trim and roof cover
10. Fascia, Rake Board and Builders Felt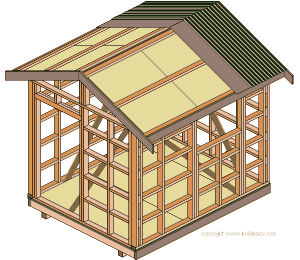 Nail the rake boards to the ends of the purlins along each gable rake and make flush with the top of the purlins.
Join the rake boards at the apex (vertical cut) and cut the other end vertically, 175mm (6″) past the ends of the rafters.
Cut and fix the fascia board to the ends of the rafters, between the rake boards.
Make the top edge of the fascia board flush with the top of the purlin.
Cover the roof with builders felt prior to the corrugated roofing iron going on.
11. The Roof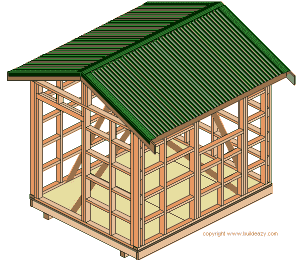 Fix the roofing iron to the purlins with appropriate roofing nails/screws.
Fix to the top and bottom purlins at every second corrugation and fix to the intermediate purlins at every 3rd or 4th corrugation.
Fix through the high side of the corrugation.
Overhang the roofing approx 65mm (2 1/2″) past the Fascia Board.
12. The Ridge Capping and Rake Flashing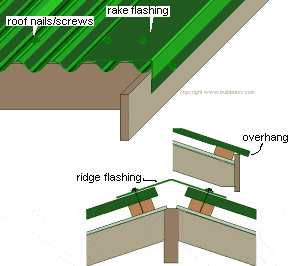 Standard ridge capping is about 130 (5″) each side of the apex, but can vary and any size can be made to order.
Have the ridge flashing in mind when positioning the top Purlin.
Fix the ridge capping to the Purlin at every second corrugation.
The rake flashing goes under the ridge capping at the top.
Fix to each purlin (through two corrugations) and also to the side of the rake board.