Preparing the ground
Step 1: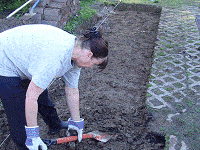 Excavate the ground to a depth of at least 50mm (2″) below the bricks.


For example: It the bricks are 100mm (4″) thick, then excavate to a depth of 150mm (6″).


Also make sure that the excavation is a few inches wider than the proposed path to allow for a bit of room to work.


If the ground is not firm, then you will need to go deeper.
Step 2: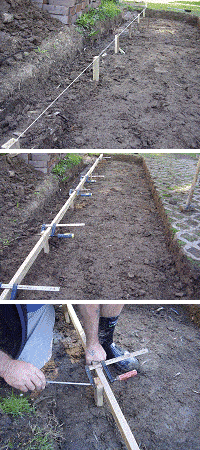 a).
Put up string-lines showing the proposed finished height and width of the path.


Offset the string-lines 25mm (1″) each side of the proposed path to compensate for the thickness of the formwork. (The formwork is the temporary strips of woodTimber, lumber. The hard fibrous lignified substance under the bark of trees at the sides which acts as a guide and holds everything in place until everything sets.)
b).
Hammer pegs into the ground along the outside of the string-lines.


Hammer the pegs in until they are the same height as the string-line.


Space the pegs about 900mm (3ft) apart.
c).
Clamp 50mm x 25mm (1″ x 2″) formwork to the inside of the pegs. Ensure that the formwork is flushBeing even with. with the tops of the pegs.
d).
Screw through each peg into the formwork.


Once screwed, you can then take the clamps off.
Step 3: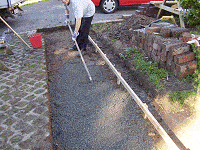 Once the formwork is in place you can get a more accurate assessment of the excavation heights.


Make any necessary digging adjustments.


Spread a thin cover of fine aggregate over the excavation area.


The next step is to pour a bed of concreteA mixture of sand, gravel, water and cement which hardens to a stone like condition when dry. up each side of the path excavation for the bricks to sit on.
You can get information on how to mix concrete here.


Before pouring any concrete, dampen the work area using fine spray from a hose.
Step 4: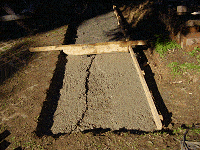 Make a screed boardA piece of sawn, or dressed lumber of greater width than thickness. Usually 19mm (3/4") to 38mm (1 1/2") thick and 75mm (3") or more wide. that is able to slide up and down the formwork and screed the concrete bed to the required height.