Introduction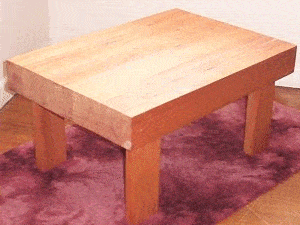 All measurements throughout this project are given in both
Metric
Millimeter measurements.
(
mm
Abbreviation for millimeter which is a metric unit of length equal to one thousandth of a meter. 25.4 mm equals one inch.
) and Standard/Imperial inches.
The measurements are given first in millimeters (mm), followed by inches in brackets ( ).This small coffee table is ideal for a side table or end table.The table is designed with the home handyman in mind. It is both easy to build and is very sturdy. The minimum tools required to construct this coffee table are….
Pencil; square; measuring tape; handsaw; hammer; chisel; a couple of clamps and lots of sandpaper. Most handymen are likely to have those tools in their arsenal.Of course….. it would make life easier if you also happened to have a drop-saw and a belt sander.
About the

wood

Timber, lumber. The hard fibrous lignified substance under the bark of trees
The wood used for this coffee table was 90mm x 45mm (1 1/2″ x 3 1/2″) dressedSurfaced; planed; smooth; even surface; gauged./surfaced cedar.
Cedar is reddish in color, light and easy to work with. Other wood can be used.
Virtually any wood can be used for this project, just allow for different widths and thicknesses, and also take into account, the finish. Is the table to be painted, stained and/or coated with polyurethane?
Obviously, if the table is to be painted, then an inferior and less expensive wood can be used, as imperfections (within reason) can be filled and painted over.
About the glue
The glue used to make this table was an epoxy glue, a two part mix where an epoxy resin is mixed with an epoxy hardener. Most hardware stores stock epoxy glues.
Some glues do not take to types of chemicals contained in certain woods, always read instructions and conditions before purchase.
Materials + quantities
| | |
| --- | --- |
| MATERIAL | AMOUNT |
| 90mm x 45mm (1 1/2″ x 3 1/2″) wood | 12 metres (38ft) |
| Epoxy glue | 300ml (1/2 pint) including hardener |
| Polyurethane | 500ml (1 pint) tin |
Reader Interactions