Add the 'under-seat' cleats and the seat boards
NailA short nail with a large flat head used for securing roofing felt, plasterboard, sheet metal to wood etc. an 'under-seat' cleatA short horizontal member that ties opposing rafters together immediately below the ridge board. to the inside of the front piece and another to the inside back piece. Position them 30mm (1-1/4″) down from the top. The seat boards will sit on the 'under-seat' cleats and they (the seat boards) will protrude
slightly above the top of the front boardA piece of sawn, or dressed lumber of greater width than thickness. Usually 19mm (3/4") to 38mm (1 1/2") thick and 75mm (3") or more wide. and the back board.
Apply glue to the top edge of the 'under-seat' cleats and sit the seat boards on them.
Nails or screws will not be necessary, just put some weights on top of the seat boards to hold them down until the glue has setHow much the teeth are angled out on a circular saw blade..
One of the seat boards will need to be ripped (cur lengthwise) to make it fit.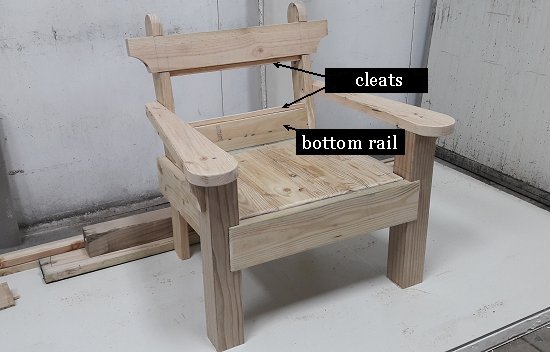 Just the infill to go
Use whatever you want (a bit of imagination would be a fine thing) for the infill.
We used 12mm (1/2″) thick slats and spaced them evenly along, with a little gap between each one.
They were just glued in, as we didn't want nail or screw heads showing in that part.