Step 1.3   Cutting the form pieces for the legs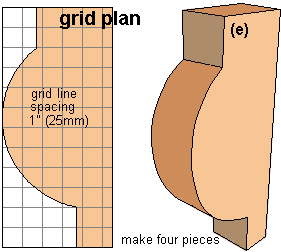 Cut 4 pieces (e) of *2½" x 5½" (140mm x 62mm) wood, at 12″ (300mm) long.
Each piece will need to be shaped.
Cut a piece of cardboard 5 ½" (140mm) wide x 12″ (300mm) long.
Draw a grid onto the cardboard with line spacings 1″ (25mm).
Then copy (draw) the shape as shown in the grid plan, onto the cardboard using the grid lines as reference points.
Cut out the shape on the cardboard and use that as a pattern to mark all the (e) pieces. They can then be cut using a jigsaw or other suitable tool.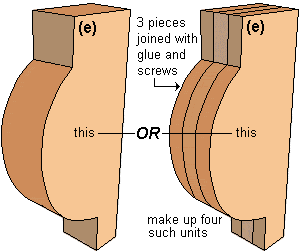 *Note:   2½" (62mm) thick wood is less common than ¾" (20mm) thick wood and harder to cut the shape with a jigsaw, although it can be done. ¾" (20mm) thick wood is more readily available and of course a lot easier to cut, but you will need three times as many pieces, as you will need to glue and screw three pieces together to make up for every one piece of the thicker wood. The thicker option is the best way to go if you can somehow acquire the wood (or close to it) and have the tools to cut it.
Next cut 4 pieces of ⅝" (15mm) thick plywood, 17⅝" long x 12″ wide (440mm long x 300mm wide).
Mark six hole positions on each piece. Refer to the drawing for hole positions.