Preface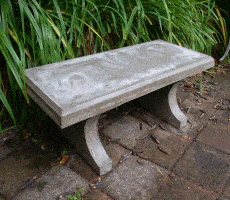 Concrete furniture for the garden certainly takes a lot of beating.
It pretty much fits in with any type of landscape design. This concrete seat is a little beaut. It is easy to make and inexpensive. In fact, most of the work and cost is in the making of the form (mold), however you only need to make the form once in order to make as many seats as you like.
Once you are set up and have made one seat, chances are you're bound to make another.
And of course, a concrete seat is going to last a long, long time.