This deckA flat floored roofless area adjoining a house. Timber deck: An outside floor structure comprising of posts, bearers, joists and decking boards., handrail and steps project required a building permit. This tutorial covers aspects of the project's construction, along with some of the plans that were submitted to the authority when applying for building permission.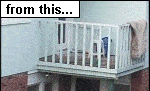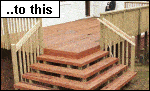 Prelude to the construction
The owners wanted a hardwood deck coming out from their back doorA horizontal framing member above the door/window opening. with spreading steps down to the yard.
The Plans
These are some of the plans that were drawn up to obtain a building permit for a deck.
The Site Plan
The site plan shows the placement of the proposed new deck in relation to the existing house along with the site boundaries, location of services (storm water, sewer etc.) The site plan also shows the road frontage with road name and an indication of North.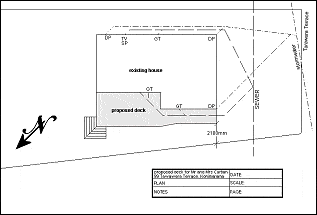 The Flat Plan
The flat plan or footprint plan is an arial (looking down) view of the proposed deck. It shows the overall dimensionsAny of the three linear measurements, length, breadth and depth. of the project and other information such as footingA base (in or on the ground) that will support the structure. placements, bearerA sub-floor wood supporting the floor joists. and joistOne of a series of parallel members used to support the floor. Part of the framing that provides the structure for a floor. placement, and spacings between joists.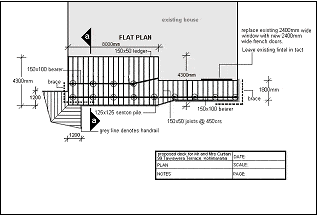 The Cross-Section Plan
The cross section plan is a plan taken from a cross section of the flat plan. The cross section shows construction, lumberAny of the framing wood. sizes and footing size. A detail plan is sometimes accompanied to give clearer detail. A detail plan is a blow up (magnified) part of the plan.
Specifications are sometimes drawn on this page (material types, sizes etc).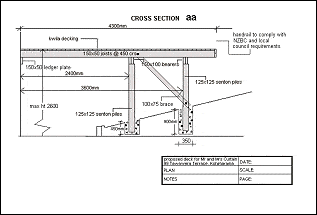 The

Elevation

Side view of a building.

Plan
The elevation plan is more like a drawing of the outside of the addition rather than a plan, although is still drawn to scale. The elevation plan gives a good perspective of the addition to the untrained eye.