Constructing the

deck

A flat floored roofless area adjoining a house. Timber deck: An outside floor structure comprising of posts, bearers, joists and decking boards.
The deck construction. Click on any red text for an explanation
The deck was built to the dimensionsAny of the three linear measurements, length, breadth and depth. and specifications of the plans. The deck was profiled out and the holes were marked, dug, and then inspected by the building inspector.
The treatedPressure treated. Refers to lumber that is treated in such a way that the sealer is forced into the pores of the wood. Refers to lumber pressure sprayed with chemicals to lengthen its life expectancy for outside use or inground applications. posts, 125×125 (5×5) and slightly over height, were concreted in place with 100mm (4″) of concreteA mixture of sand, gravel, water and cement which hardens to a stone like condition when dry. beneath each postsee PILE. The concrete was left to cure.
The heights of the ledger plateThe top or bottom horizontal framing member of the wall. and posts were determined by using a water level. The 150×50 (2×6) ledger plate was bolted to the house using 12mm (1/2″) galvanizedCovered with a protective coating of zinc. coachAre round headed bolts with square shoulders that resist rotation when located or driven into place. They can be called coach bolts or carriage bolts depending on which part of the world you live in. The head end of the bolt does not need a washer, but the other end of the bolt (the nut end) usually does. screws every 1200mm (48″). The posts were trimmed off at the appropriate height. The treated bearers 150×100 (4×6) were fixed on top of the posts.
Next
The joists were fixed in place, square off the building and spaced at 450crs (18″ O.C.On center; (See CENTERS)). The joists were fixed to the ledger plate with joistOne of a series of parallel members used to support the floor. Part of the framing that provides the structure for a floor. hangers and fixed on the bearers with galvanized nails and Z nails.
The joists were over length, so they could be trimmed off later.
The hardwood decking was fixed in place. For instructions on how to lay decking straight, click here.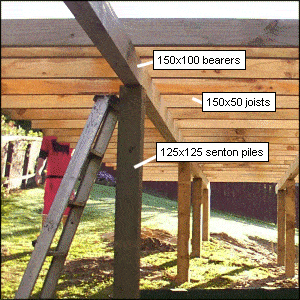 Once the decking boards were fixed in place, the ends were trimmed and two hardwood decking boards were fixed around the perimeterboundary. for a decorative (rather than structural) finish. (see below)