Constructing the handrall
Handrails on decks are governed by certain criteria.
Enquire at your local building department to see what criteria is required.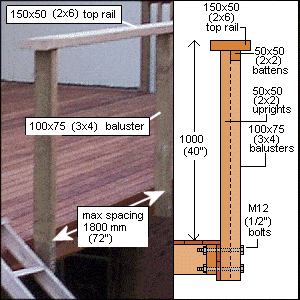 Other notes
The 100×75 (3×4) Balusters were spaced not more than 1800mm (72″) and bolted to the boundary joistOne of a series of parallel members used to support the floor. Part of the framing that provides the structure for a floor. with 2 galvanizedCovered with a protective coating of zinc. 12mm (1/2″) bolts.
The joists each side of the balusters were fixed to the boundary joist with nailA short nail with a large flat head used for securing roofing felt, plasterboard, sheet metal to wood etc. plates top and bottom, and also with two 12mm (1/2″) coachAre round headed bolts with square shoulders that resist rotation when located or driven into place. They can be called coach bolts or carriage bolts depending on which part of the world you live in. The head end of the bolt does not need a washer, but the other end of the bolt (the nut end) usually does. screws per joist.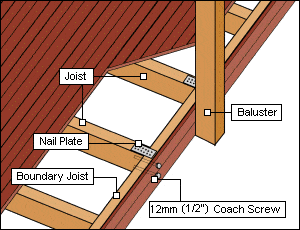 The 50×50 (2×2) treatedPressure treated. Refers to lumber that is treated in such a way that the sealer is forced into the pores of the wood. Refers to lumber pressure sprayed with chemicals to lengthen its life expectancy for outside use or inground applications. uprights were fixed in place, nailed to the boundary joist at the bottom, and nailed to the battenNarrow board used to cover cladding joins. and top railThe top and bottom frame member of a door or window (not the jamb). Cross member of panel doors or of a sash. Also the upper and lower member of a balustrade or staircase extending from one vertical support, such as a post, to another. The horizontal member of a fence., at the top.
The uprights were spaced so no gaps were wider than 100mm (4″).