Constructing the steps
The steps on this deckA flat floored roofless area adjoining a house. Timber deck: An outside floor structure comprising of posts, bearers, joists and decking boards. are not standard steps, but more a feature. Steps are also governed by a certain criteria, such as treads must be a minimum of 280mm (11 1/2″), rises must be a maximum of 185mm (7 3/8″) high and toe recess should be between 15mm (5/8″) and 25mm (1″).
For construction details on making standard exterior steps click here
Enquire at your local authority to see what criteria is required.


The steps were made up separately on an even surface (the deck). Step frames were constructed from 75×50 (2×3) treatedPressure treated. Refers to lumber that is treated in such a way that the sealer is forced into the pores of the wood. Refers to lumber pressure sprayed with chemicals to lengthen its life expectancy for outside use or inground applications. lumberAny of the framing wood.. The frame width was to accommodate three hardwood decking boards with a 5mm (3/16″) gap between them. The length of the first step frame was 1200mm (48″) along both runs, and every other step frame was progressively 300mm (12″) longer along each run.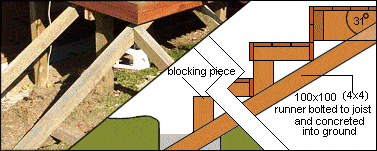 Four 100×100 (4×4) runners were put in place to bear the steps.
The top of the runners were bolted to the joists on one side of the deck, and solid nogs/blocks on the other. After ensuring the runners were the desired pitch (in this case 31 degrees), concreteA mixture of sand, gravel, water and cement which hardens to a stone like condition when dry. was placed around the bottom.
100×100 (4×4) treated blockingBlocks, see Block. pieces were fixed on the runners to take the front edge of the step frames (see above illustration).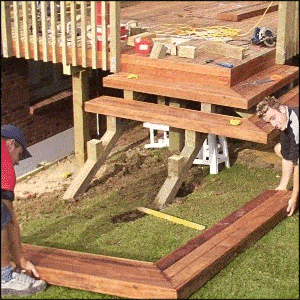 The pre-made steps were then lifted and fixed in place on the runners and blocking pieces. An additional runner with blocking pieces was then placed under the center join of the steps.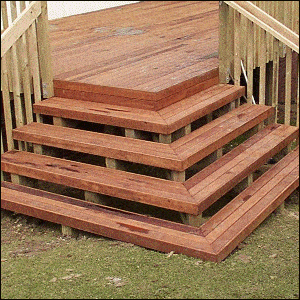 The handrail was fixed to the side of the steps, a bit of a clean up, and all finished.