Preface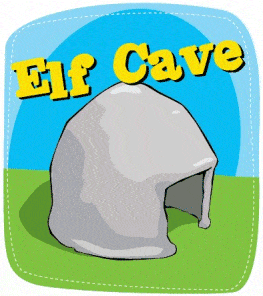 I first co-authored this project with my daughter Roseanne in 2004-2005. It was one of five projects we were commissioned to do for a book called 'DIY for kids – book two'. That book was published by HarperCollinsPublishers (NZ) Limited in 2005.
In all, we authored ten projects for two books, involving kids in all the projects.
The project that the kids most enjoyed participating in was this project – the elf cave.
This online version has been modified to suit a more universal audience in so much as standard (ft and inch) measurements have been added to the metrics, some of the terminology has been made more generic, and additional material options have been added – Oh! and the title has been changed.
Apart from that it's pretty much the same animal.
Introduction
Fun for the whole family! A dabbling with plaster, making a mess and anything goes. Throw away the level and the straight edge – in this project, nothing has to be straight, level or exact. A frame made of PVC water pipe or conduit pipe is wrapped in wire and then plastered in cement plaster. Once built, this charming elf cave will be around for years and years.
Safety stuff
Kids are encourages to get involved in the making of this elf cave, but under strict supervision from a capable adult.
All normal safety practices must be adhered to.
In particular, the shell is made of plaster which contains cement. Cement is a fine powdery substance that should not be inhaled. Cement also has a caustic nature when mixed with water and can cause damage to skin. When using, simply be smart – wear clothes that cover the whole body, a pair of long rubber gloves, a pair of safety goggles and an appropriate breathing mask. It is all inexpensive stuff and easy to obtain.