About measurements, tools, materials
Tools you will need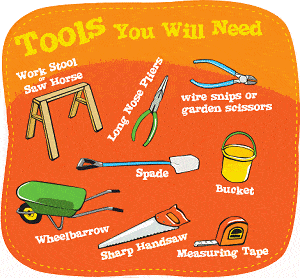 ● Sawhorse or work stool   ● Spade   ● Pair of long-nose pliers   ● Pair of wire snips or garden scissors   ● Sharp handsaw   ● Measuring tape   ● Bucket   ● Wheelbarrow
About the measurements
DimensionsAny of the three linear measurements, length, breadth and depth. given in this project are in both MetricMillimeter measurements. (m, mmAbbreviation for millimeter which is a metric unit of length equal to one thousandth of a meter. 25.4 mm equals one inch.) and ImperialStandard. Feet and inch measurements. (ft, inches).
Note: m = metre,   mm = millimetre,   ft = feet,   also   ' = feet, and   " = inches.
Example: 4′ 5½" = 4 feet, 5 and a half inches.
The metric measurements are given first followed by the standard measurements in brackets ( ). For example: 100 mm x 50 mm (2″ x 4″).
Materials you will need
● 20 mm (3/4″) plastic conduit pipe or similar size PVCPolyvinyl chloride. A common thermoplastic resin, used in a wide variety of manufactured products, including rainwear, pipes, garden hoses, phonograph records, and floor tiles. water pipe: one 3.4m (11′ 4″) long, one 4.7m (15′ 8″) long, one 5m (16′ 8″) long, four 3.5m (11′ 8″)long
Note: You can use other material in place of the PVC pipe such as a bendy type woodTimber, lumber. The hard fibrous lignified substance under the bark of trees or 10mm (3/8″) thick reinforcing rod.
● Tarpaulin 2400 mm x 2400 mm (8′ x 8′) or bigger
● Multipurpose flexible PVC tape
● Tie wire
● Wire netting: 13 mm (1/2″) max hole galvanizedCovered with a protective coating of zinc. wire netting 900 mm x 20 m (3′ x 67′) or enough to cover an area of 18 sq m (200 sq ft)
● Three 40 kg bags (three approx 90 lb bags) of cementA powdery type substance made from a mixture of earths materials such as limestone and shale, which is sintered (cause to become solid mass by heating without melting), ground, and mixed with small amounts of calcium sulphate and calcium carbonate. Cement is activated by water and when mixed with gravel and sand, forms concrete. (more or less)
● One car trailer-load of wash-mix sand (0.5 m³ (18 cubic ft))