Apply the wire netting
5. Begin the netting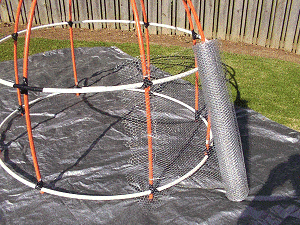 Start from one upright flexible pipe frame and wrapA cover or protection such as a building paper that envelops the exterior walls or roof frame prior to the cladding being fixed. Reduces air movement and helps avoid the risk of water ingress. the netting around the lower structure horizontally twice. (Run the bottom of the netting along the ground).
Cut off with wire snipe of garden scissors or similar. At this stage, just hold the netting in place with enough wire ties as necessary.
6. Tie the wire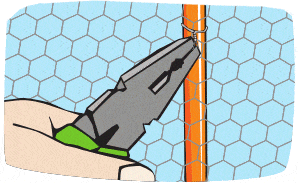 Hold the netting in place with tie wire.
Poke thin pieces of tie wire through the holes in the netting, around the pipe and back out through the wire netting and twist to hold with a pair of pliers.
Cut off any excess tie wire.
7. Net the top half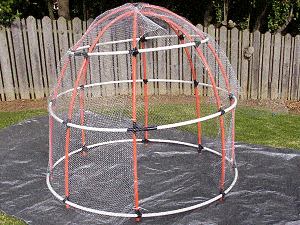 Cut lengths of netting about 1m (40″) long and lay and tie them to the top half of the structure.
Because the structure is dome-shaped, the netting will have to be folded and bent in places to achieve the desired surface shape.
8. Complete the netting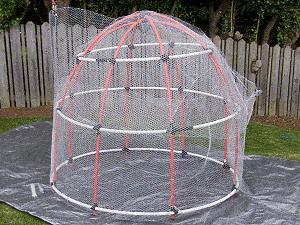 Continue laying and fixing the netting until there are at least three layers neatly enveloping the complete structure.
The netting should be tied together with tie wire about every 250 mmAbbreviation for millimeter which is a metric unit of length equal to one thousandth of a meter. 25.4 mm equals one inch. (10″) both vertically and horizontally.