Make the

door

A horizontal framing member above the door/window opening.

, a dabble into plaster
9. Make the door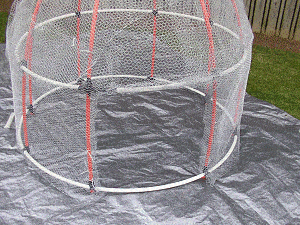 Cut a hole for the door using wire snips or similar. Fold back any excess netting on the sides and fold up any excess netting hanging down. This will make a good solid door headA horizontal framing member above the door opening.. Situate the doorway at the lowest part of the ground, so that when it is finished rain water won't run in.
Make a window in any place or any size you wish. Just cut a hole in the netting and fold up the netting like you did for the door.
A dabble into plaster
CementA powdery type substance made from a mixture of earths materials such as limestone and shale, which is sintered (cause to become solid mass by heating without melting), ground, and mixed with small amounts of calcium sulphate and calcium carbonate. Cement is activated by water and when mixed with gravel and sand, forms concrete. plaster is a mixture of cement, sand, and water. This is the most basic of cement plasters. Most professional plasterers also use other additives that can make the plaster more pliable, stick better, dry faster, or even be more waterproof. However, a basic plaster mix is fine for this project. Plaster mix can be bought in handy size bags but that is only economical for small jobs. Also bags of sand can be purchased in handy size bags as can bags of cement.
But for this project? – Loose sand can be purchased by the trailer-load which is the most economical way for this project.
An average car trailer can usually hold half a cubic metre (18 cubic ft).
When making the plaster, make the mix ratio four parts of sand (washed sand) to every one part of cement.
You will probably need a trailer load of sand and at least three 40kg (90lb) bags of cement, but this can vary greatly depending on how thick you plaster or how much you waste.
WHAT'S THE DIFFERENCE BETWEEN CEMENT PLASTER AND CONCRETEA mixture of sand, gravel, water and cement which hardens to a stone like condition when dry.?
Just the stones. Plaster is a mixture of cement, sand, and water. Concrete is a mixture of cement, sand, gravel, and water.