The first step riser and tread
1) Determine an area for the steps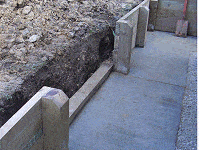 When designing the retaining wall, leave out a section for the step area.

The width of the opening for the steps can be any size up to 2400mm (8ft).

Cut the posts which make up the steps about 200mm (8″) longer than the opening.

Lay the first post (riser) in place behind the retaining wall.
Note: The steps are made out of 100mm x 100mm (4″ x 4″) treated posts laid horizontally on firmly shaped ground. The post below the front of each step is called a 'riser' and the three posts joined together horizontally at each step is called the 'tread' (i.e. the part you put your foot on).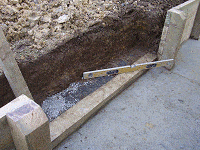 2) Prepare the ground for the first tread 

Dig back at least 200mm (8″) behind the first riser so that the ground is level with the top of it.

Dig, pack, and/or fill and tamp until the ground behind the riser is level and firm.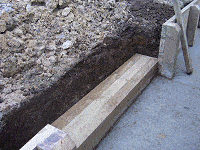 3) Make the first tread 

On a flat even surface make up the first tread by nailing three posts together (angle nail through one into another). Then place the tread on top of the riser and the level ground behind it.

Nail the tread to the riser. Angle the nails (toe nail) through the front face of the tread into the riser.