The second step riser and the sides
4) Prepare the ground behind the tread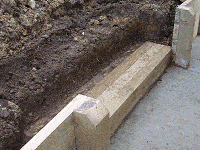 Dig back at least 100mm (4″) behind the tread.


Dig, pack, and/or fill and tamp
5) Position the next riser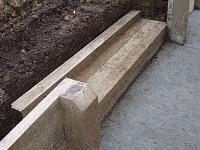 Place the next riser on top of the firm and level ground directly behind the tread.
6) Cut and fit the side boards 


Cut the side boards out of 150mm x 50mm (2″ x 6″) treatedPressure treated. Refers to lumber that is treated in such a way that the sealer is forced into the pores of the wood. Refers to lumber pressure sprayed with chemicals to lengthen its life expectancy for outside use or inground applications. lumberAny of the framing wood..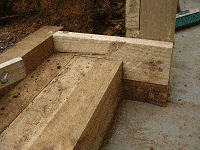 Measure, mark and cut the first boardA piece of sawn, or dressed lumber of greater width than thickness. Usually 19mm (3/4") to 38mm (1 1/2") thick and 75mm (3") or more wide. on each side so that the top of each board is level with the top of the uppermost riser.
Then cut the ends of the side boards flushBeing even with. with the retaining wall postsee PILE as shown in the picture.


Next measure, mark and cut another piece of 150mm x 50mm (2″ x 6″) treated lumber to fill the gap between the bottom of the previously fitted side board and the ground.