The second step tread and top riser
7) Prepare the second step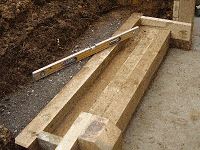 Next do a repeat of 2). That is, dig back at least 200mm (8″) behind the top riser.


Dig, pack, and/or fill and tamp until the ground behind the riser is level and firm.
8) Make up the second tread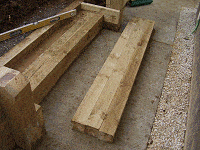 On an even surface make up the next tread by nailing three posts together (angle nailToenail. A nail driven at an angle to the member. through one into another).
9) Fit the second tread 


Then place the tread on top of the riser and the level ground behind it.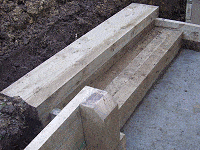 NailA short nail with a large flat head used for securing roofing felt, plasterboard, sheet metal to wood etc. the tread to the riser. Angle the nails (toe nail) through the front faceThe widest side of a piece of wood. of the tread into the riser.
10) Make and fit the top riser 


Dig back at least 100mm (4″) behind the top tread. Dig, pack, and/or fill and tamp until that the ground is firm and level with the top of the tread.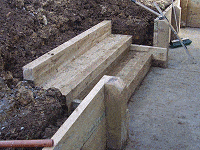 Nail two 100mm x 100mm (4″ x 4″) posts together to make the final riser and then place it on top of the firm and level ground directly behind the tread.