The sides and the back-fill
11) Complete the sides of the steps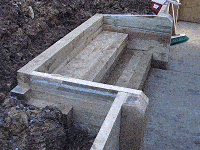 Finish the sides in the same manner as explained in 6).

Trim the ends of the top riser to finish flush with the side boards.

Note: If you require a different finish height, then either add or subtract the amount of risers and treads to suit.
12) Back-fill the steps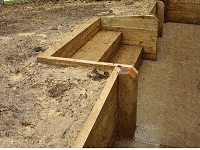 Back-fill around the steps, leaving enough room for some top soil or other preferred finish.
13) Add top soil and grass seed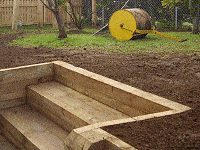 Top up with top soil (if that is your preferred finish), throw in some grass seeds and that's about it.