Step 4 (after). Make up the rear wall
Make up the rear wall frame according to the plan on the previous page.
Draw a pattern of the rear frame on the working platform. Refer to the rear wall frame plan on the previous page and draw the shape of the wall in its entirety (perimeterboundary., plates, studs, noggings) onto the working platform using a chalkline or a pencil and straight edge. You will then have a full size pattern.
Cut the individual pieces to the pattern and rebateAn L-shaped cutout with one side, that is always at an end or side of a member, unlike a notch that is a U-shaped cutout. and trench accordingly. Refer to 'HOW TO – Cut rebates and trenches' on page 16.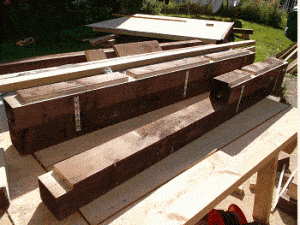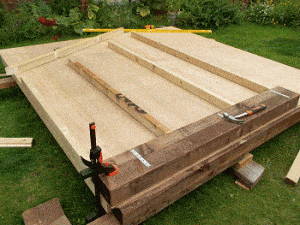 Don't spare the metal strapping when tying the plates together or the studs to the plates.
Take notice of where the studs sit in relation to the bottom plateThe bottom horizontal framing member of the wall. as shown in the pictures below.