Making the formwork profile
Introduction

When the concrete gate posts were first made we didn't give too much thought as to what sort of capCover would adorn the tops.
Then, while on a Sunday drive, we spotted a postsee PILE with a suitable cap and took a photo: that's it to the left. The challenge was to make something similar!


This is how we made our concreteA mixture of sand, gravel, water and cement which hardens to a stone like condition when dry. caps.
Making the formwork
Formwork for the mold had to be made to give the desired profile (shape) to the concrete cap.


The profile (shape) was achieved by putting together an assortment of various profiled woods.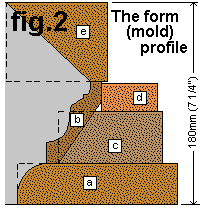 The profile of the mold was not going to be exactly the same as the cap that was being copied because the mold was subject to the profilesBatter boards; Horizontal boards attached level to stakes, used to mark out the boundary of a construction and establish the levels and building line. of woodTimber, lumber. The hard fibrous lignified substance under the bark of trees that could be sourced locally.


The formwork was made up in one continuous length about 2400mm (8ft) long, using a compilation of various profiled woods.
The length was then cut into smaller segments to make the mold.
The wood used was…
Piece [a]: 140mm x 35mm (5 1/2″x 1 3/8″) stock.
One of the corners were rounded (fig.4) using a planeA flat surface extending infinitely in all directions (e.g. horizontal or vertical plane). Any flat, two-dimensional surface. and sand paper.


Piece [b]: 90mm (3 1/2″) wide decorative cornice trimThe finish materials in a building, such as narrow boards applied around openings (window trim, door trim) and vertical corner battens.


Piece [c]: 90mm x 45mm (3 1/2″x 1 1/2″) stock with one side cut on an angle


Piece [d]: 50mm x 25mm (1″x 2″) stock


Piece [e]: 90mm x 70mm (2 1/2″x 3 1/2″) stock with one side cut on an angle
Assembling the formwork pieces
The pieces were then glued, temporarily nailed and clamped together (fig.1).


The nails were only used to help hold everything together until the glue dried.