Step 5 (after). Make up the low wall
Make up the low wall frame according to the plan on the previous page.
Cut to length the top and bottom plates and rebateAn L-shaped cutout with one side, that is always at an end or side of a member, unlike a notch that is a U-shaped cutout., trench, and chamferA beveled cut along the edge of a piece of wood. where necessary (refer to the plans on the previous page).
Lay the plates apart in readiness for the studs. Cut the studs to length and rebate (for the glass) and trench (for the noggings) where required.
Refer to 'HOW TO – Cut rebates and trenches' on page 16.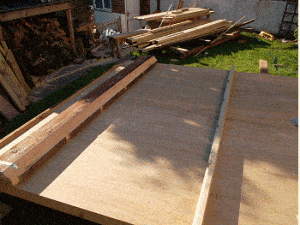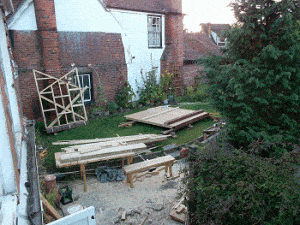 FixTo secure with nails or screws. the studs in place and then measure, cut, rebate, and fix the noggings in place.
Don't spare the metal strapping when tying the plates together or the studs to the plates.
Flip the frame over and braceTo make rigid. it.