Step 6 (after). Make up the roof frame
Make up the roof frame according to the plan on the previous page.
The length of the roof frame is the same as that of the high wall (the working platform), so if you fixTo secure with nails or screws. a couple of blocks each end of the working platform, it will contain the length of the roof frame.
Refer to 'HOW TO – Cut rebates and trenches' on page 16.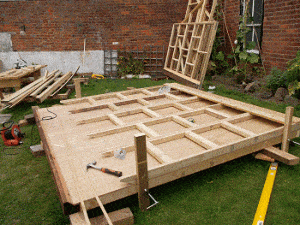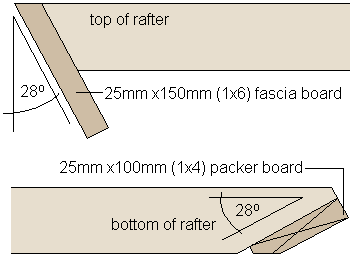 Cut the rafters to length, angle cut the ends, rebateAn L-shaped cutout with one side, that is always at an end or side of a member, unlike a notch that is a U-shaped cutout. where required (refer to previous page plans), space them out, fix the noggings, the top fascia boardThe top horizontal board cappingCovering the top ends of the rafters., and the bottom packer boardA piece of sawn, or dressed lumber of greater width than thickness. Usually 19mm (3/4") to 38mm (1 1/2") thick and 75mm (3") or more wide.. Take notice that one corner of the packer board needs to be chamfered. Refer to the plans for all other details. Space the noggings to suit the glass sizes.