Step 8. Make up the

door

A horizontal framing member above the door/window opening.
Make up the door according to the plan on the previous page and the pictures on this page.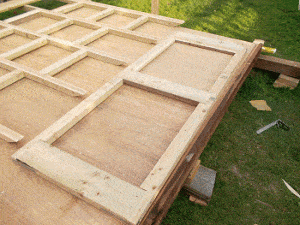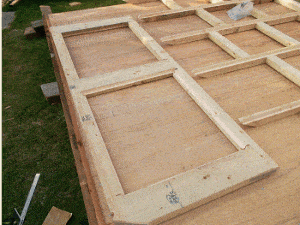 Take note that the rebateAn L-shaped cutout with one side, that is always at an end or side of a member, unlike a notch that is a U-shaped cutout. for the glass is in the front of the door, and the rebate for the infill is in the back of the door (horizontalParallel to the horizon, flat, level. rails only). Use 19mm (3/4″) thick T&G (tongue and grooveA joint in which a protrusion (tongue) that runs along the edge of a board fits into a matching groove that runs along the edge of another board. Boards shaped with a tongue on one edge and a groove on the other so that they can be fitted together without gaps.) boards of any width for the door infill, or even a solid sheetAny broad, thin surface..