Step 12. Complete and position the roof frame
FixTo secure with nails or screws. the two roof windows to the roof frame with hinges, as shown in the drawing below.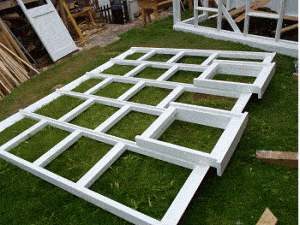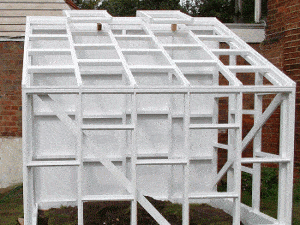 Then sit the roof frame on top of the wall frames. It should sit neatly in place held there by the fascia boardThe top horizontal board cappingCovering the top ends of the rafters..
Secure it with metal plates or galvanizedCovered with a protective coating of zinc. strap intermittently placed along the sides and front. Also screw the fasciaExterior horizontal visible flat front trim board that caps the rafter tail ends. boardA piece of sawn, or dressed lumber of greater width than thickness. Usually 19mm (3/4") to 38mm (1 1/2") thick and 75mm (3") or more wide. to the left-side high wall. Screw in places that can easily be accessed later, should you ever want to dismantle the glasshouse.