Step 1. The

greenhouse

Structure used for growing plants. Natural sunlight comes in through glass or plastic panels and the temperature and humidity is controlled to provide ideal growing conditions. A building made with translucent (light transparent, usually glass or fiberglass) walls conducive to plant growth.

base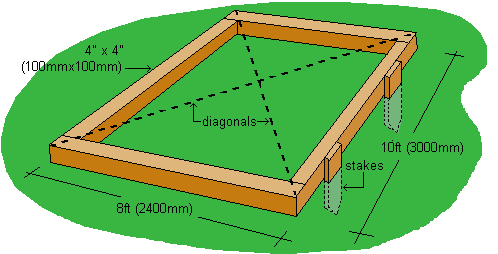 Use 4″ x 4″ (100 mmAbbreviation for millimeter which is a metric unit of length equal to one thousandth of a meter. 25.4 mm equals one inch. x 100 mm) treatedPressure treated. Refers to lumber that is treated in such a way that the sealer is forced into the pores of the wood. Refers to lumber pressure sprayed with chemicals to lengthen its life expectancy for outside use or inground applications., or natural decay-resistant, sawnRough sawn; Not gauged, planed or dressed. woodTimber, lumber. The hard fibrous lignified substance under the bark of trees to make the base.
Make a rectangleFour-sided figure with four right angles. 8ft" x 10ft" (2400 mm x 3000 mm) as shown in the drawing above. FixTo secure with nails or screws. the wood together in the corners by using galvanizedCovered with a protective coating of zinc. nails and nailA short nail with a large flat head used for securing roofing felt, plasterboard, sheet metal to wood etc. plates.
Before you site (position) the base, make sure the ground where the base will rest is level and firm.
Use a level or a water level to check the grade, and dig accordingly to level the ground directly beneath where the wood will be sitting.
Go to here for an article on 'how to make and use an inexpensive water level'.
Check that the two diagonal measurements are equal. If they are not, make any necessary adjustments. When the diagonals are equal, then the base is square.
Secure the base in place by driving stakes into the ground around the perimeterboundary..
Nail the stakes to the base and cut flushBeing even with. any stakes protruding higher than the base wood.