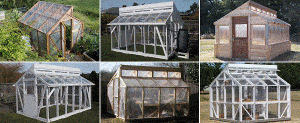 The above picture shows some of the greenhouses that have been built using these plans and instructions.
There are more pictures at the end of this article thanks to the users that have been kind enough to send in a photo or two of their handiwork.
Introduction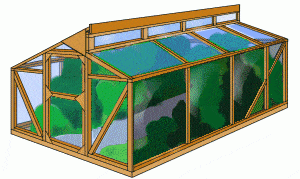 This greenhouseStructure used for growing plants. Natural sunlight comes in through glass or plastic panels and the temperature and humidity is controlled to provide ideal growing conditions. A building made with translucent (light transparent, usually glass or fiberglass) walls conducive to plant growth. is 8ft (2400 mmAbbreviation for millimeter which is a metric unit of length equal to one thousandth of a meter. 25.4 mm equals one inch.) wide by 10ft (3000 mm) and stands 8′ 6″ (2550 mm) off the ground at the highest point.
In this version, the greenhouse frame is constructed mainly out of 2″ x 4″ (100 mm x 50 mm) which is a more common stock (in North America, anyway) than the 2″ x 3″ (75 mm x 50 mm) called for in the original version. We will talk more about woodTimber, lumber. The hard fibrous lignified substance under the bark of trees stock sizes a bit further down the page.
Other modifications include a wider doorA horizontal framing member above the door/window opening. to allow for a wheelbarrow if need be, and a bit more inside height. See, we do listen to feedback.
On page 12 You can view some greenhouse photos sent into us by people who have used these plans.
Photos of other peoples handiwork are always a good source of help and inspiration.
Description
This greenhouse consists of a wooden frame suitable for a cover such as a clear UV-resistant polythene film.
It is 8ft (2400 mm) wide by 10ft (3000 mm) and stands 8′ 6″ (2550 mm) off the ground at the highest point.
There are two opening windows that spanThe horizontal distance between supporting structures. along the very top of the greenhouse and a door at either end (optional).
The greenhouse basically sits on the ground and is held in place by a few stakes around the bottom that are hammered into the ground and nailed to sides of the base.
It could be fixed more permanently if required without too much ado, and would probably need to be, if positioned anywhere other than a sheltered area.
It is ideal for areas that have just enough winter frosts to be annoying.
Where to place the greenhouse
Choose a place likely to get the winter sun. The greenhouse should not be placed in a potential boggy area without drainage.
If the site is a low lying area, then it might be necessary to put in a drain (open, tile or metal) to re-direct any water flow away from the greenhouse site.