Step 3. The roof frame sections
Make up five roof sections that spanThe horizontal distance between supporting structures. from side-wall to side-wall. Refer to the plans and instructions below.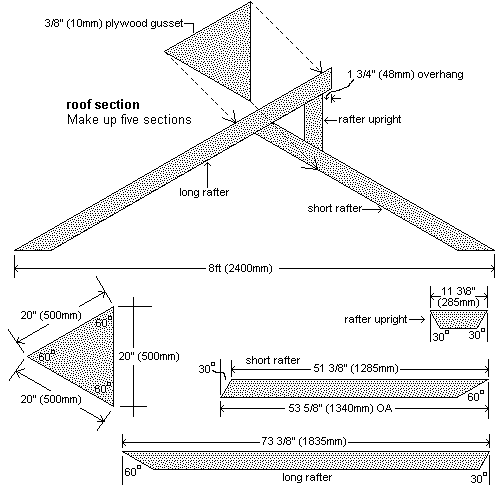 Cut all roof frame pieces to the dimensionsAny of the three linear measurements, length, breadth and depth. given above.
Use 1 1/2″ x 3 1/2″ (90 mmAbbreviation for millimeter which is a metric unit of length equal to one thousandth of a meter. 25.4 mm equals one inch. x 45 mm) treatedPressure treated. Refers to lumber that is treated in such a way that the sealer is forced into the pores of the wood. Refers to lumber pressure sprayed with chemicals to lengthen its life expectancy for outside use or inground applications., or natural decay-resistant woodTimber, lumber. The hard fibrous lignified substance under the bark of trees.
In all, cut 5 long rafters @ 73-3/8″ (1835 mm), 5 short rafters @ 53-5/8″ (1340 mm) and 5 rafterStructural member of a roof that supports the roof load and runs from the ridge to the top of the side walls. uprights @ 11 3/8″ (285 mm) all with end angle cuts as shown in the plan drawing.
Also cut five triangular gussets (equilateral triangles) from a sheetAny broad, thin surface. of 3/8″ (10mm) treated plywoodA piece of wood made of three or more layers of wood veneer laminated together with glue., with all three sides being 20″ (500 mm) long.
On a flat piece of ground, make up the five roof sections to the pattern and dimensions as shown in above drawing. Ensure the two furthest points are 8ft" (2400 mm) apart and then nailA short nail with a large flat head used for securing roofing felt, plasterboard, sheet metal to wood etc. the triangular gussets in place with galvanizedCovered with a protective coating of zinc. flathead nails spaced every 2″ (50 mm) apart, one gusset to each roof section.