Step 3. The roof frame sections
Make up five roof sections that span from side-wall to side-wall. Refer to the plans and instructions below.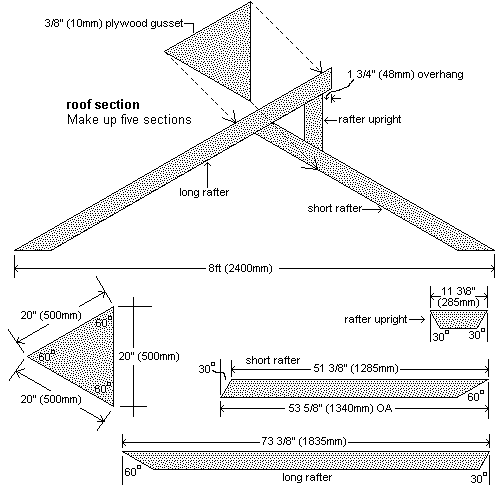 Cut all roof frame pieces to the dimensions given above.
Use 1 1/2″ x 3 1/2″ (90 mm x 45 mm) treated, or natural decay-resistant wood.
In all, cut 5 long rafters @ 73-3/8″ (1835 mm), 5 short rafters @ 53-5/8″ (1340 mm) and 5 rafter uprights @ 11 3/8″ (285 mm) all with end angle cuts as shown in the plan drawing.
Also cut five triangular gussets (equilateral triangles) from a sheet of 3/8″ (10mm) treated plywood, with all three sides being 20″ (500 mm) long.
On a flat piece of ground, make up the five roof sections to the pattern and dimensions as shown in above drawing. Ensure the two furthest points are 8ft" (2400 mm) apart and then nail the triangular gussets in place with galvanized flathead nails spaced every 2″ (50 mm) apart, one gusset to each roof section.