Step 6. The doors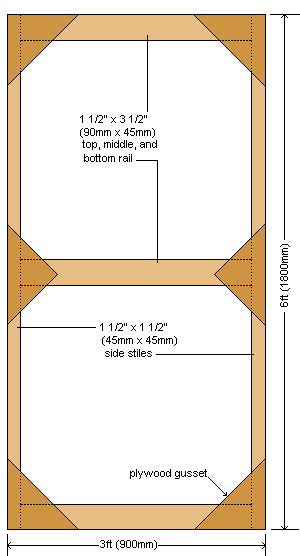 Make two doors as per the dimensionsAny of the three linear measurements, length, breadth and depth. given in the drawing – the front doorA horizontal framing member above the door/window opening. and the back door.
Make the doors 3/4″ (20 mmAbbreviation for millimeter which is a metric unit of length equal to one thousandth of a meter. 25.4 mm equals one inch.) smaller than the opening.
Use 1 1/2″ x 1 1/2″ (45 mm x 45 mm) stock for the stiles (upright side pieces), and use 1 1/2″ x 3 1/2″ (90 mm x 45 mm) stock for the three horizontalParallel to the horizon, flat, level. rails.
Make the door frames up on a flat surface. Ensure the frames are square and then nailA short nail with a large flat head used for securing roofing felt, plasterboard, sheet metal to wood etc. the gussets in place on both sides of the doors.
Hinge the doors in place and fit handles or padbolts of your choice.