Instructions continued (steps 5 to 7)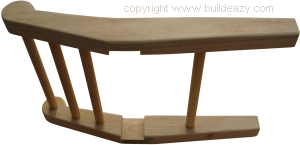 Step 5. Assemble the two ends
Lay a leg on a flat, even surface or a work bench.
Apply woodTimber, lumber. The hard fibrous lignified substance under the bark of trees glue to the holes in the leg and around the ends of the dowelA round wooden pin that is used to reinforce a wood joint. The round wooden pin fits into corresponding holes in adjacent pieces of wood and helps fastens them securely together. pieces which are to be inserted into the holes.
Insert the dowel pieces into the holes.
Apply more wood glue to the other ends of the dowel pieces and also to the holes of the opposite leg.
Align the opposite leg above the dowel pieces and gently hammer into place using a blockBlocking. A pieces of wood that runs between other members (studs, joists, rafters) to provide support, add strength and/or act as a solid support between panel joins. of wood as a buffer so as not to damage the leg.
That is one end done. Repeat the process for the other end.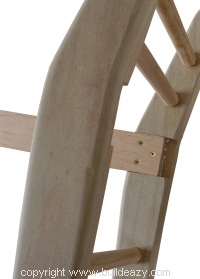 Step 6.

Fix

To secure with nails or screws.

the front and back rails in place
Lay the two end assemblies on edge on a flat, even surface, opposing one another.
Apply glue to the notches and the ends of a front or back railThe top and bottom frame member of a door or window (not the jamb). Cross member of panel doors or of a sash. Also the upper and lower member of a balustrade or staircase extending from one vertical support, such as a post, to another. The horizontal member of a fence..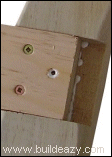 Position the rail into the notches so that the ends of the rail are in 20mm (3/4″) from the outside edge of each notchA U-shaped cutout in a member to house another member. A notch has two sides and can be anywhere along the member except the ends (unlike a rebate that is an L-shaped cut-out with one side and is always at an end or side of a member).. See pictures.
Fasten with three screws each end.
Note: Pre-drill the holes for the screws in the rails prior to fastening.
Flip the unit over and repeat the same action on the other side.


Step 7. Fix the end rails in place
Stand the unit upright.
Measure from notch to notch for the required length of the end rails.
Cut the end rails to length.
Apply wood glue and screw the two end rails in place.
Note: Pre-drill the holes for the screws in the end rails prior to fastening.