Maybe you have a gorgeous period property, painted wooden floorboards, or an item of furniture that you think has a gorgeous grain under years with latex paint. All that is standing between you and some stunning wood grain are layers of paint or gummy stained wood gazes.
Regardless of why you might want to remove paint from wood, you have cone to the right place. We can teach you how to use contemporary paint stripping products and methods (rather than just the caustic soda that we were limited to in the good old days of DIY).
Read on to learn everything you need to know about do-it-yourself wood stripping.
What Kinds Of Wood Can Be Stripped?  
The first thing you need to know when you are thinking about stripping your wooden furniture, doors, or floors is what type of wood it is made of. You can strip any kind of wood, even heavily carved wood, so long as you use the right materials, products, methods, and care.
This stage is particularly important if you want to strip something that was expensive, rare, or precious. Using the methods that have listed below, you can strip: 
Both outdoor and indoor furniture
Exterior and interior doors/door frames 
Stair rails and banisters 
Antique or vintage furniture
Window frames and sills 
Floorboards 
Parquet flooring 
Build-in furniture 
Skirting boards
Removing Paint From Wood By Sanding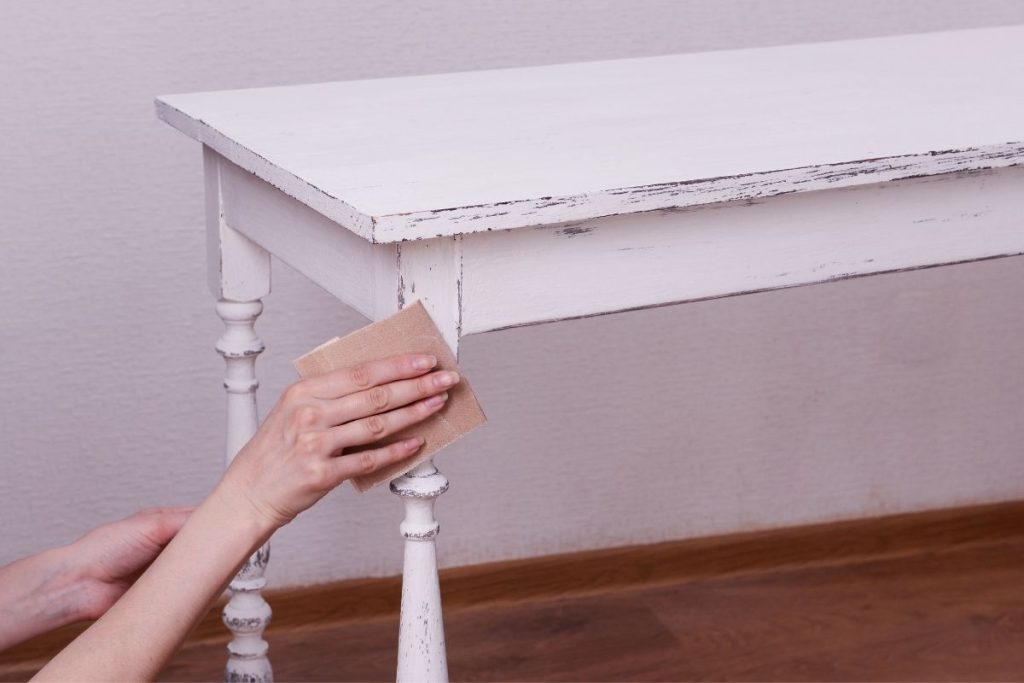 This method of paint removal is best for smaller projects unless you want to hire an industrial sander from a specialist company. We recommend using an industrial sander to remove paint and varnish from your wooden floor.
When using this method, take it easy and don't use too much elbow grease, as both sandpaper and wire/steel wool can cause damage to the wood if you go too hard.
When you sand paint, or varnish off of wood, you are taking the surface of the wood off, so you need to do it as evenly as possible so that you can avoid rubbing it thin, rubbing ridges, or creating gouges in places.
 Power tools can help you avoid any ridges or gouges, as their design can help you apply even pressure. Generally, regardless of whether you are sanding with an electric sander or by hand, we suggest that you take it slow and steady until you get a bit of a feel for it. 
Removing Paint From Wood With A Hot Air Gun 
You can use an electric hot air gun to remove the paint quickly, but do be careful with this method, as even just lingering for a little too long can scorch the wood.
Scorching is not really a worry if you are planning on painting the wood again after you have removed the paint, but if you are planning on leaving it bare, or using an oil, wax, stain, or varnish it can be a problem. 
The hot air gun should be used for paint only – it can cause other wood finishes, like varnish or vinyl, to go gooey, bubbly, or burn, and this glue-like heated consistency can make it even more difficult to remove. 
Removing Paint From Wood With A Chemical Paint Stripper
Chemical stripping is probably the best method when it comes to stripping carved, intricate, or hard-to-reach wood. This is because chemical paint removing products often deliver the best results, remove wood finishes the fastest, and tend to be the least harsh on the wood itself. 
However, using chemical paint strippers purchased at the local hardware store isn't just a case of applying it, and it does all the work for you. Usually, there is a little bit of elbow grease and finesse necessary to get the best results, especially when there are layers and layers of old paint to remove.
You will likely have to mix chemical and mechanical methods to get rid of all of the old paint. 
You should take care, and always follow the manufacturer's instructions when using these kinds of chemicals, as they all present their own care and safety issues. 
Our general guide to stripping paint from wood (using a chemical stripping product):
Every product is a bit different, but they do all have similar underpinnings. When you start to use your paint stripping product, your first step should typically be to apply a thick layer of the paint stripper to the object that you want to strip (use a paintbrush that you don't mind having to throw away afterward).
Make sure that you work the solution into any nooks, crevices, and intricacies so that you get even removal. Don't be afraid to dollop it on, rather than applying it in thin layers. It has to be thick to work properly!
Then, you have to leave the stripper for a period of time, so that it can get to work on your paint. Different kind of products work over different timescales, so leave it for the right amount of time according to the instructions!
Once the product has got to work, and the paint has softened, you can scrape it all off with a plastic or metal scraper. You can even use wire wool or old toothbrushes to scratch it out of any hard-to-reach areas. Just be careful when you are completing this step, as you can damage or gouge the wood by scratching and scraping too aggressively. 
If there is any leftover paint after you have scraped away the stripper, then you can reapply the stripper, and then go through the whole process again. If the manufacturer's instructions tell you to, you may have to use a different compound to neutralize the stripped item and prevent the active chemicals from doing any more work. 
What To Do With Your Wood Once It Has Been Stripped
Now you have stripped the paint off of your wood, then you might be wondering what exactly you should do next with your wooden item. Here are a few of your options: 
You can polish it to a mirror-like shiny finish, using a deep nourishing wood wax polish. 
Color it in rich color with a wood stain. 
Oil it with a wood oil (which you can get in both colored and clear varieties)
Preserve it (which is the most important step for an exterior wood) using a clear or a colored wood preserving compound. 
You can lacquer the stripped piece with a high-quality wood lacquer. 
You can dye it with a colored wood dye (which comes in water-based and solvent-based varieties). 
Repaint it, using furniture, floor, wall, or exterior wood paint. You can pick the finish – matt, satin or gloss. You can even paint and then distress it for a more antique look, or use a more uncommon paint finish, such as emulsion, clay, or chalk paint. 
Final Thoughts 
Stripping paint back from wood can seem like a bit of an intimidating DIY task, especially if you are a little inexperienced with woodwork. But, you don't have to enlist an expert if you want to strip back a wooden item. 
Instead, you can use one of our easy and cost-effective methods (and a bit of elbow grease) to remove any kind of paint from virtually any kind of item. Just bear in mind that older paint and intricate items can take more work. Always follow safety precautions, and the manufacturer's instructions, so that you keep your furniture in great condition, and yourself safe.