Tools and materials – Instructions
Overview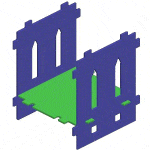 The making of this kid's castle playhouse is really just a matter of cutting all the floor, wall, eave, parapet and roof panels to the sizes and shapes that are given in the plans and then just fitting them together.
Tools and materials
The minimum tools required to do this project are pencil, measuring tape, hand saw, circular power saw, jig saw, electric drill with drill bit slightly larger than the jig saw blade, and a belt sander.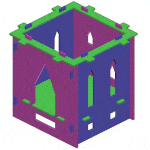 You will need four and a half 1200mm x 2400mm (4'X8′) sheets of 18mm (3/4″) thick plywood and a 3000mm (10ft) length of 18mm (3/4″) diameter wood dowel.
Instructions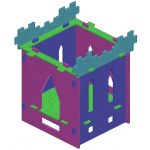 1.) Read through this article before commencing to get an understanding of the project.
2.) Mark out the profiles (shapes) of all the panels on the plywood sheets according to the plans.
3.) Cut out the panels – some will have jutting-out pieces (lugs) and some will have slots (lug holes). The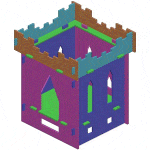 perimeter of the panels can be cut using a circular saw and handsaw and the slots (lug holes) can be cut with a jigsaw. A hole will first need to be drilled in one or more corners of each slot (lug hole) to allow for the jigsaw blade.
4.) Drill the holes in the lugs (the jutting-out pieces on the panels) and cut and taper the dowel to make the plugs. Refer to the Lug and plug detail page for Lug hole placement, measurements and plug cutting tips.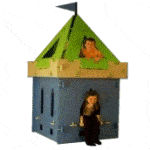 Tip: Experiment with the plug and lug system before proceeding – cut inside penciled layout lines for lugs and outside penciled lines for lug holes to ensure lugs fit comfortably thru lug holes.
5.) Once all the panels have been cut, the holes drilled and the plugs tapered and cut to length, it is just a matter of fitting everything together.
The images in this page show the order of assembly.
Some of the panels have jutting-out pieces called 'lugs' and some of the panels have slots called 'lug holes'.
The lugs have 'plug' holes.
The lugs go into the slots and are held firmly in place once the plugs (tapered dowel pegs) have been inserted in the 'plug' holes.
6.) The castle playhouse should only take about 10 minutes to assemble and 8 minutes to disassemble.
Castles are festive, so a bit of bright paint should not go amiss. For kid's parties, fill the castle with balloons of various shapes and sizes, sit back and watch the fun!
Variations:
1.) The castle without the roof is still fully functional and is an option that requires less plywood and less work.
2.) Door and window openings can be different shapes limited only by your imagination.