Cutting and assembling the desk
Step 1. Cut the pieces.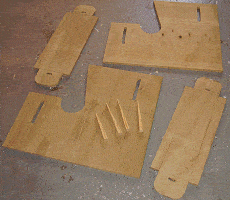 Cut all the panels out of 3/4″(18mm) thick plywoodA piece of wood made of three or more layers of wood veneer laminated together with glue. to the dimensionsAny of the three linear measurements, length, breadth and depth. given in the plans on the previous page. Then cut four wedges 3/4″ (18mm) wide and about 5″ (125mm) long, tapering from 3/4″ (18mm) down to nothing.
To see how to cut all the panels from half a standard size sheetAny broad, thin surface..

Using a drill and a jig-saw, cut out the slots in the side panels to the dimensions given in the plans.

Using a drill and a jig-saw, cut out the wedge slots in the tongues to the dimensions shown in the drawing below.

Step 2. Assemble the spacers and side panels.

Insert the tongues on the spacer panels into the slots in the side panels, and then insert the wedges into the wedge slots in the tongues to make secure.
Step 3. The desktop.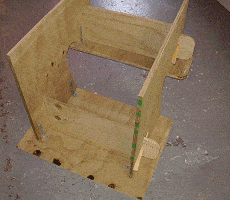 Put the desktop panelA sheet that forms a distinct flat and rectangular section or component. A transparent panel used to fill a framed section of a window. in place and fixTo secure with nails or screws. it to the side panels with two angle brackets at each side. (This is best done with everything in the upside-down position.)

Fix the seat in the same way as you fixed the desktop.

Step 4. Finished.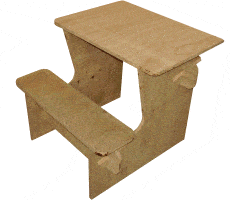 All done but for the paint.
A good going over with paint is advisable, as it's then much easier to clean off pencil marks, chalk marks, crayon marks and all other inevitable marks.

The desk can easily be dismantled when it is not needed and stored away using minimal space.