Introduction and the parts list
An easy project to make. It can be built without the use of any power tools.
This is a good, simple, easy-to-make kid's easel that can be used for a blackboard, a whiteboard, a clipboard, and an artist's canvas.
To make this easel is simply a matter of cutting the wood to length, marking and drilling the holes according to the cutting list and individual piece drawing in step 1., and then just bolting all the pieces together.
The measurements throughout this projects are given in both millimeters and inches.
The metric measurements are given first, followed by the imperial measurements in brackets.
Note: For rounding-off purposes, the metric (mm) measurements given are not an exact match to their equivalent imperial (inch) counterparts, so use one or the other.
For this project you will need
Two pieces of 50mm x 25mm (1″x 2″) wood, 1100mm (44″) long.
One piece of 50mm x 25mm (1″x 2″) wood, 900mm (36″) long.
One piece of 50mm x 25mm (1″x 2″) wood, 800mm (32″) long.
One piece of 50mm x 25mm (1″x 2″) wood, 600mm (24″) long.
One piece of 150mm x 25mm (1″x 6″) wood, 300mm (12″) long.
One 150mm (6″) T hinge
Thirteen 6mm (1/4″) carriage bolts with nuts and washers: seven at 50mm (2″) long and six at 30mm (1 1/4″) long.
Three 25mm (1″) long wood screws
A piece of strong thin rope, and three plastic containers to hold pencils, chalk, crayons, etc.
Tools you will need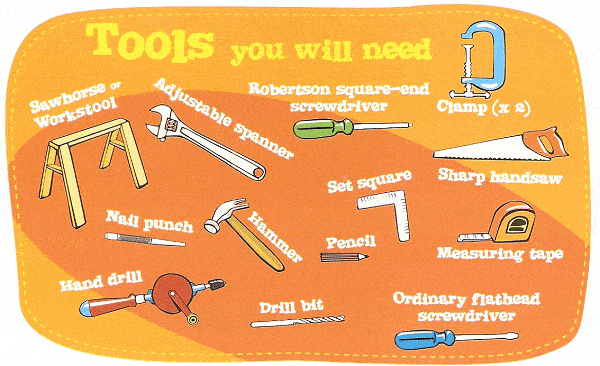 A bit about the wood size
The wood sizes referred to in this project are the nominal sizes. The nominal size of a piece of wood is the size (width and thickness) of the wood before it is dressed (surfaced, smooth, seasoned) and is the size generally referred to when purchasing from the lumber store. The actual size, or dressed size of the wood will be less than the nominal size. For example, a piece of 1″x 2″ wood when dressed may be 3/4″x 1 1/2″ actual size.
Sizes (widths and thicknesses) do vary from place to place but that will not have any impact on this project.
Identifying the parts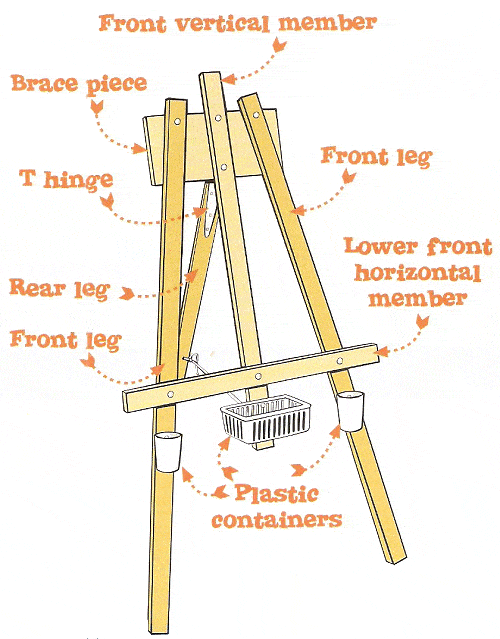 The individual pieces