How to build a Pergola Arbor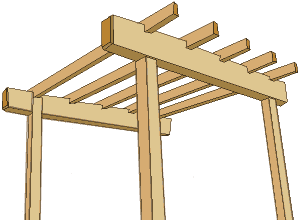 This pergolaA structure with open wood-framed roofs, often latticed and supported by regularly spaced posts or columns, and covered by climbing plants such as vines or roses, shading a walk or passageway. Pergolas are distinguished from "arbors," which are less extensive in extent and structure. arborA shelter of vines or branches or of latticework covered with climbing shrubs or vines. A walk through Garden structure that can support plants and generally complements the landscape. is very sturdy, as in a lot of cases an arbor can be a rather flimsy garden structure. It consists of 100×100 (4″x 4″) posts concreted into the ground, 200×100 (4″x 8″) beams checked and bolted to the posts and 100×50 (2″x 4″) rafters fixed to the beams.
An arbor
To my way of thinking an arbor is a smallish (in footprint)
freestanding structure consisting of two or four posts
with a pitched or arched roof. It is often an entrance to a garden or yard and more often than not, has plants
growing up and over it.
A pergola
A free-standing pergola is a structure usually bigger than an arbor consisting of four or more posts
and (in most cases) with a flat roof. The roof makeup is typically beams sitting on posts with more beams or rafters crossing over the top.
A pergola arbor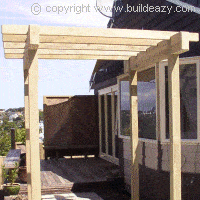 Hence, I will call this structure a pergola arbor. Although the size really does not warrant it being called a pergola, the design and solid structure of it does.
About the wood sizes
The size of the woodTimber, lumber. The hard fibrous lignified substance under the bark of trees referred to in his project is the actual sizeThe finished (dressed) size as opposed to the nominal size of a piece of wood., which is the size of the wood after it has been dressedSurfaced; planed; smooth; even surface; gauged. (smooth, planed, finished).
For example: When a pieces of wood 2″ x 4″ rough size (called the nominal sizeThe rough-sawn size of a piece of lumber. Before the lumber is surfaced, planed or dressed. The nominal size is usually greater than the actual dimension. e.g. 100x50 (2 x 4) actually equals 90x45 (1 1/2" x 3 1/2").) is dressed (smooth, planed, finished), it becomes approximately 1 1/2″ x 3 1/2″ in size, which is the actual size.
All measurements throughout this project are given in both Standard/Imperial inches, and MetricMillimeter measurements. (mmAbbreviation for millimeter which is a metric unit of length equal to one thousandth of a meter. 25.4 mm equals one inch.).
The measurements are given first in inches, followed by millimeters (mm) in brackets ( ).
1 1/2″ x 3 1/2″ means wood that is 1 1/2 (one and a half) inches thick by 3 1/2 (three and a half) inches wide.
And the equivalent in metric…
90mm x 45mm means wood that is 90 millimeters wide by 45 millimeters thick.
Pergola arbor plans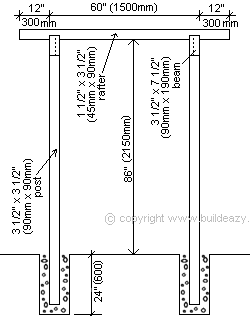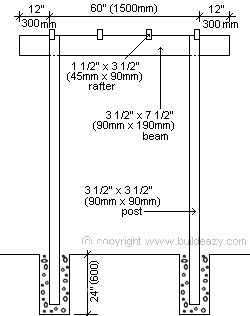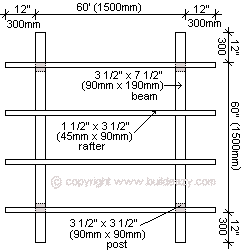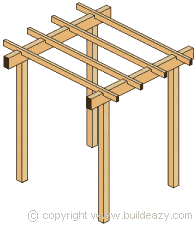 Lumber requirements
• Posts: 4 pieces 3 1/2″ x 3 1/2″ (90mm x 90mm) @ 9ft (2700mm) long.
• Beams: 2 pieces 3 1/2″ x 7 1/2″ (190mm x 90mm) @ 7ft (2100mm) long.
• Rafters: 4 pieces 1 1/2″ x 3 1/2″ (90mm x 45mm) @ 7ft (2100mm) long.
Doing the pergola arbor posts and beams

The pergola arbor posts
Dig four holes 14″ (350mm) square by 24″ (600mm) deep.
Position the holes as shown in the arbor plan. ConcreteA mixture of sand, gravel, water and cement which hardens to a stone like condition when dry. the posts in place and wait until the concrete cures (usually the next day) before cutting the tops of the posts to the required height.
Cut and trench the pergola arbor beams
Mark and trench (checkout, rebateAn L-shaped cutout with one side, that is always at an end or side of a member, unlike a notch that is a U-shaped cutout.) the two beams. The dimensionsAny of the three linear measurements, length, breadth and depth. are shown in the Arbor plan page.
This can be achieved by setting the blade on a circular saw to the required depth and making repeated saw cuts across the beamA supporting member. where the trench is to go. Finish by chiseling out the grooves with a sharp chisel. The more saw cuts, the easier the chiseling.
Position the pergola arbor beams
BoltA metal rod that has a head on one end and threads on the other and is used to fasten together lumber. The most common bolts used or referred to in projects within this website are coach/carriage bolts and hex bolts. the beams to the top of the posts with 12mm (1/2″) galvanizedCovered with a protective coating of zinc. coachAre round headed bolts with square shoulders that resist rotation when located or driven into place. They can be called coach bolts or carriage bolts depending on which part of the world you live in. The head end of the bolt does not need a washer, but the other end of the bolt (the nut end) usually does./carriage bolts. Use two bolts at each meeting, eight in all.
Cut, trench, and position the rafters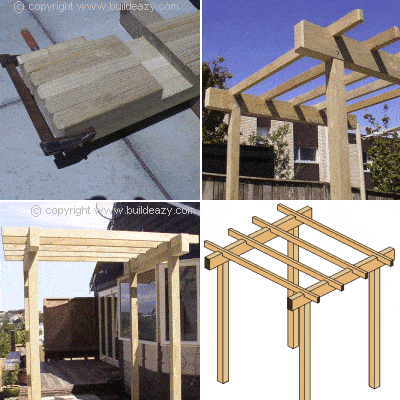 Post your handiwork
If you build pergola arbor we would love to see a photograph and your story. You can postsee PILE your handiwork here
Photos of your handiwork
None yet – be the first