Instructions – Slats, Arm Rest and Chain
5

Fix

To secure with nails or screws.

the back slats in place and mark for cutting.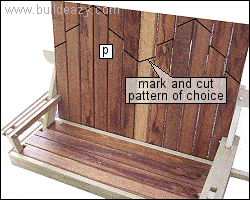 Temporarily nailA short nail with a large flat head used for securing roofing felt, plasterboard, sheet metal to wood etc. a straight edge to the bottom half of the rear seat frame (j) so the back slats will have something to sit on while they are being fixed in place. Spread the back slats (p) out evenly between the two end frames and fix to the back slat support (k) and the rear seat frame memberPiece of lumber that is part of a frame or structure. (j) with screws. Pre-drill screw holes first through the back slats.
When the back slats are fixed in place, you can draw a pattern of your choice at the top of the back slats. Cut with a jig-saw if the pattern has curved lines or a handsaw will do if the pattern only consists of straight lines.
6 Fit the arm rest.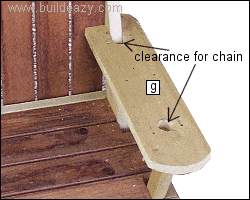 Cut the arm rest (g) to fit around the rear verticalPlumb, upright. arm support (e) and fix with screws to the horizontalParallel to the horizon, flat, level. arm supports (f).
Make holes in the appropriate places for the chain cavities.
7 Thread the chain.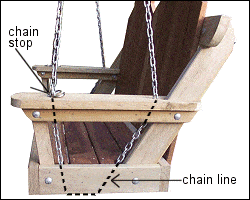 Thread the chain through the holes in the arm rests down through the cavities at the bottom of the end frames and back up.
The holes and cavities should be big enough so that the chain can be pulled through freely.
When the seat is held off the ground by the chains (more about that next page), the seat angle can be easily adjusted and locked in place by inserting a "chain stop" through one of the chain link holes just above the front arm rest (g) hole. A "chain stop" can be a small boltA metal rod that has a head on one end and threads on the other and is used to fasten together lumber. The most common bolts used or referred to in projects within this website are coach/carriage bolts and hex bolts., piece of rod or anything that can fit through a chain link hole and stopThe part of the plywood wall panels that overlaps the door and window frame, and protrudes into the door or window area and covers any gaps between the door/window and the surrounding frame. It acts as a stop for the door and also stops the rain getting in. the chain from slipping around the end frames.
When you want to re-adjust the seat angle, simply take out the "chain stop", adjust the angle and lock in place again by putting the "chain stop" back.