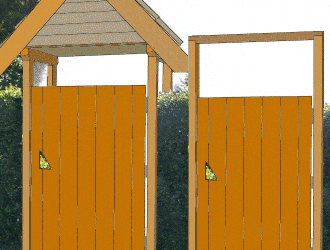 How deep?  What size?

A simple side or garden gate.
This tutorial is given in both MetricMillimeter measurements. (mmAbbreviation for millimeter which is a metric unit of length equal to one thousandth of a meter. 25.4 mm equals one inch.) and ImperialStandard. Feet and inch measurements. (inches) measurements.
The metric measurements are given first followed by the standard measurements in brackets ( )
For example: 100mm x 50mm (2″ x 4″).
A side gate or garden gate is usually placed to protect certain areas and/or to keep kids or pets in, intruders or animals out, or even just for privacy. Generally, a side gate or garden gate is about 1800mm (6ft) high.
As with all outside lumberAny of the framing wood. structures, gates have to be designed to withstand the elements. It is a relatively common experience to have difficulty trying to open (and shut) some lumber gates that are either jammed between the posts, or have sagged and are dragging on the ground. A bit of forethought can alleviate these problems.
1:  Posts.  How deep?  What size?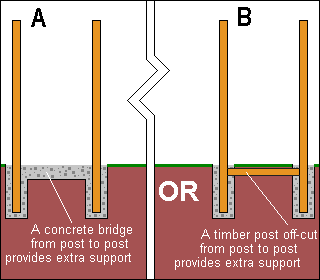 Lumber used for posts should be suitable for in ground application. That is, they should either have a natural resistance to decay (rot) or be suitably treatedPressure treated. Refers to lumber that is treated in such a way that the sealer is forced into the pores of the wood. Refers to lumber pressure sprayed with chemicals to lengthen its life expectancy for outside use or inground applications..
Postsee PILE size: As a rule of thumb for free-standing posts, use 100mm x 100mm (4″ x 4″) lumber for narrow gates up to 1200mm (4ft) high, use 125mm x 125mm (5″ x 5″) posts for narrow gates 1800mm (6ft) high, and use at least 150mm x 150mm (6″ x 6″) posts for wide gates. A smaller size post can be used if the post is supported in other ways, such as bolted to another structure, held rigid at the top with a cross-member, or forms part of a pergolaA structure with open wood-framed roofs, often latticed and supported by regularly spaced posts or columns, and covered by climbing plants such as vines or roses, shading a walk or passageway. Pergolas are distinguished from "arbors," which are less extensive in extent and structure., arborA shelter of vines or branches or of latticework covered with climbing shrubs or vines. A walk through Garden structure that can support plants and generally complements the landscape. or other type of walk-through structure.
Hole size: For most, a lumber post should be concreted into a hole 600mm (2ft) deep and 300mm (1ft) square. A wider heavier gate such as a driveway gate, could require a hole 900mm (3ft) deep. Running a bridgeA structure that allows people or vehicles to cross an obstacle such as a river or pond or garden. made out of concreteA mixture of sand, gravel, water and cement which hardens to a stone like condition when dry. or timber from post to post just below ground level, is a way of keeping the posts at bayA combination of three window units joined together that project outwards. The center unit is parallel to the wall and the two units each side are usually 45° or 90° (right angles) to the wall but can be any angle against the pulling forces of the gate. (See diagram.)
Post spacing: Space the gate posts wide enough apart i.e. about 900mm (3ft), to allow for common garden and yard implements such as wheelbarrows, to go through.