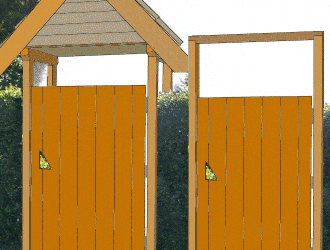 How deep?  What size?

A simple side or garden gate.
This tutorial is given in both Metric (mm) and Imperial (inches) measurements.
The metric measurements are given first followed by the standard measurements in brackets ( )
For example: 100mm x 50mm (2″ x 4″).
A side gate or garden gate is usually placed to protect certain areas and/or to keep kids or pets in, intruders or animals out, or even just for privacy. Generally, a side gate or garden gate is about 1800mm (6ft) high.
As with all outside lumber structures, gates have to be designed to withstand the elements. It is a relatively common experience to have difficulty trying to open (and shut) some lumber gates that are either jammed between the posts, or have sagged and are dragging on the ground. A bit of forethought can alleviate these problems.
1:  Posts.  How deep?  What size?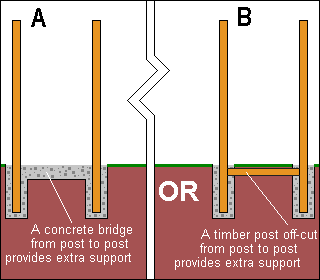 Lumber used for posts should be suitable for in ground application. That is, they should either have a natural resistance to decay (rot) or be suitably treated.
Post size: As a rule of thumb for free-standing posts, use 100mm x 100mm (4″ x 4″) lumber for narrow gates up to 1200mm (4ft) high, use 125mm x 125mm (5″ x 5″) posts for narrow gates 1800mm (6ft) high, and use at least 150mm x 150mm (6″ x 6″) posts for wide gates. A smaller size post can be used if the post is supported in other ways, such as bolted to another structure, held rigid at the top with a cross-member, or forms part of a pergola, arbor or other type of walk-through structure.
Hole size: For most, a lumber post should be concreted into a hole 600mm (2ft) deep and 300mm (1ft) square. A wider heavier gate such as a driveway gate, could require a hole 900mm (3ft) deep. Running a bridge made out of concrete or timber from post to post just below ground level, is a way of keeping the posts at bay against the pulling forces of the gate. (See diagram.)
Post spacing: Space the gate posts wide enough apart i.e. about 900mm (3ft), to allow for common garden and yard implements such as wheelbarrows, to go through.