Appendage 1 –  Safety concern addressed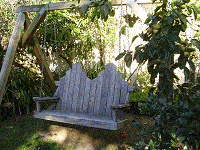 This page addresses a safety issue that could be of concern if you have children that are likely to stand up on the seat and push against the back, and let's faceThe widest side of a piece of wood. it – what kid isn't likely to try that.


We discovered this mishap by chance thanks to our grandkids.


How?….


We had been using the swing seat for months without incident until one day two of the grandkids stood up on the seat together, facing the back. They then pushed against the top of the back trying to create a rocking motion.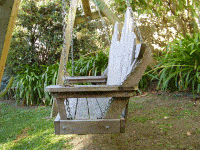 Without warning the bench seatA seat that is lacking a divider. A long seat for two or more persons tipped over backwards sending the grandkids flying to the ground. Fortunately there was no damaged done to the kids ( or the ground for that matter).


Anyway, The problem had to be addressed because kids being kids were bound to try it again and the next time they might not be so lucky. How did we fixTo secure with nails or screws. it?


We just wrapped the chain around the back of the back slat support (k) and held it in place with a spikeA large nail that is usually over 100mm (4″) long. Also a 60 penny nail ( 6″ / 150 mm) used to mark survey points in hard ground. (nailA short nail with a large flat head used for securing roofing felt, plasterboard, sheet metal to wood etc., screw or whatever).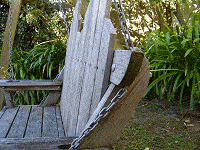 This seemed to do the trick. No matter how hard the kids tried to tip the seat over, they just couldn't.


The photos show the chain tucked behind the back slat support.


Click on any of the photos to enlarge.