Introduction – Plans – Materials list
Introduction. A good solid sawhorse. The sawhorse in this project is very similar to a couple that I've had around for so long, I can't really remember when I first made them. One thing is for sure, they've had to put up with a lot of punishment and they've really stood the test of time.


Even though making of this sawhorse requires the odd compound angle cut (a bevel cut across the width as well as the thickness of a piece of woodTimber, lumber. The hard fibrous lignified substance under the bark of trees), it can be built without the use of any power tools whatsoever.


The measurements. The measurements throughout this project are given in both Standard (inches) and MetricMillimeter measurements. (mmAbbreviation for millimeter which is a metric unit of length equal to one thousandth of a meter. 25.4 mm equals one inch.). The standard measurements are best suited to North America and the Metric measurements are best suited to Australasia and other countries.
The inch sizes given in this project do not convert exactly to their corresponding metric (mm) equivalents, so use one or the other.


Directly below are the plan drawings.
Under the drawings is the materials list.


The instructions, with pictures included, are on successive pages.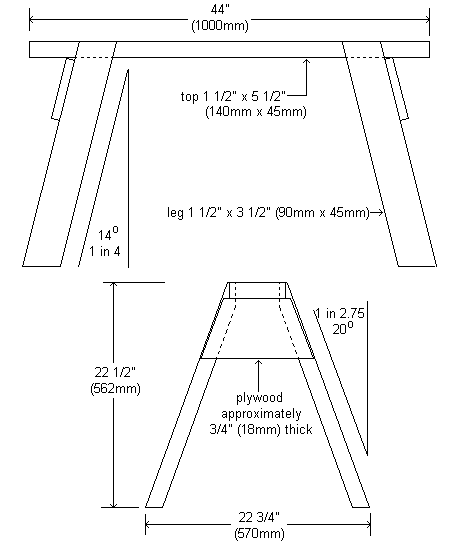 You will need…

 For the top – I piece of 1 1/2″ x 5 1/2″ (140mm x 45mm) wood 44″ (1000mm) long.

 For the legs- 4 pieces of 1 1/2″ x 3 1/2″ (90mm x 45mm) wood 27″ (675mm) long.

 For the braces – 2 piece of 3/4″ (18mm) thick plywoodA piece of wood made of three or more layers of wood veneer laminated together with glue. at least 6″ (150mm) wide x 24″ (600mm) long.

 And – 24 galvanizedCovered with a protective coating of zinc. flat-head nails 2 1/2″ (60mm) long.