Simply Measure, Cut, Drill & Assemble!
This scooter is an example of how something mechanical can be made just by using standard materials that can be purchased from most building supply stores. This project should be undertaken in conjunction with a capable adult. This basic project involves cutting the pieces of wood to length, marking where the holes are to be drilled, drilling the holes and simply bolting the pieces together.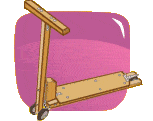 Helpful tips
Using good quality tools (such as those made for adults) makes the task easier.
Use a sharp 8 point (i.e. 8 teeth per inch) handsaw for general cutting. If you are not experienced in using handsaws, use blocks of wood and clamps to act as a saw-guide. Do not use your hand for a guide.
All electric tools should be used by a capable adult, unless under strict supervision. Even if only using a non-electrical hand drill, goggles should still be worn as a drill bit might snap and fly through the air.
Screwdriver handle should be big enough to ensure a good grip. Square head screw drivers (with appropriate screws) tend to slip less.