Shed floor relocation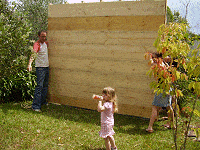 Standing the floor upright

The shed floor was lifted on its edge and a rope was tied to the front.

The floor was going to be pulled through the gate by the rope and also pushed from behind.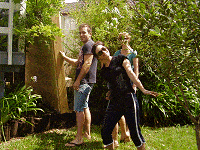 Moving the floor

Everything went to plan: the shed floor slid easily on the skidA solid piece of lumber that fits under a building in place of a footings or foundation making the building able to be moved. and with heaps of people around to help, it was a case of many hands make light work.

The floor went through the gate with ease.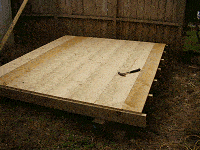 Positioning the floor

The floor was then positioned in place and packed level with blocks of woodTimber, lumber. The hard fibrous lignified substance under the bark of trees.

There was no fastening to the ground as the structure was to be only temporary. Anyway, by the time the tools were stowed inside, along with bags of this and bags of that, there was so much weight in the shed that it was never going to blow away.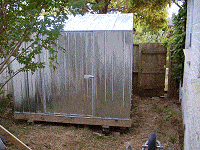 The finished shed

Assembly instructions came with the shed. It was assembled on top of the joists around the floor boards, then fixed in place to the joists with screws going through the bottoms of the shed walls.