Introduction and materials list
This planterPlanter box – A container in which ornamental plants are grown. boxRough grade timber. (or pot plant holder) is completely held together with wire.
Construction is simply a matter of cutting the pieces, drilling the holes and threading the wire.
Note: There are lots of notes just like this one scattered throughout the instructions. They are well worth reading for their helpful hints.
The most important part of the whole project is to ensure that the pieces are cut to the right lengths, and that the holes are drilled accurately so that they all line up.
The measurements are given in both imperialStandard. Feet and inch measurements. (inches) and metricMillimeter measurements. (mmAbbreviation for millimeter which is a metric unit of length equal to one thousandth of a meter. 25.4 mm equals one inch.). The imperial measurements are given first, followed by the metric measurements in brackets (). The imperial measurements are suited to North America, and the metric are suited to Australasia. The imperial measurements are not exactly equal to the equivalent metric measurements because of rounding. Use one or the other but not both.
The Components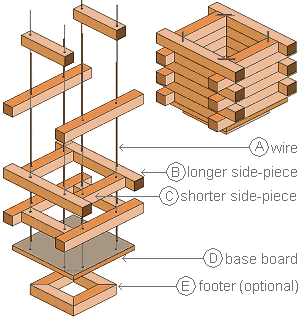 Material List
Wire
(A) 1/16″ (1.5mm) thick. 4 pieces at 3ft (900mm) long
WoodTimber, lumber. The hard fibrous lignified substance under the bark of trees (side-pieces and footer)
1 1/2″ x 1 1/2″ (45mm x 45mm)
(B) 12 pieces at 15″ (390mm) long
(C) 12 pieces at approx. 9″ (210mm)
(E) 4 pieces at 9″ (210mm) optional
PlywoodA piece of wood made of three or more layers of wood veneer laminated together with glue. (base)
(D) 3/4″ (19mm) x 12″ (300mm) square
You will also need eight 3/4″ (19mm) galvanizedCovered with a protective coating of zinc. staples to fixTo secure with nails or screws. the wire down.
1) Cut the base boardA piece of sawn, or dressed lumber of greater width than thickness. Usually 19mm (3/4") to 38mm (1 1/2") thick and 75mm (3") or more wide. out of 3/4″ (19mm) thick plywood. Make a square 12″ x 12″ (300mm x 300mm).
Note: If you prefer a smaller or larger planter box, then cut the base board to your preference and cut the side-pieces to suit.
2) Cut the 12 longer side-pieces out of 1 1/2″ x 1 1/2″ (45mm x 45mm) stock.
Make them 3″ (90mm) longer than the base board. This is so they overhang each end by 1 1/2″ (37mm).
Note: If you cannot source 1/2″ x 1 1/2″ (45mm x 45mm) stock, then it's fine to use wood that is as near as you can get. It doesn't really matter.