Steps 3 to 5
3) Cut the 12 shorter side-pieces.
Determine the length of the shorter side-pieces as follows:
Place two longer side-pieces on the base boardA piece of sawn, or dressed lumber of greater width than thickness. Usually 19mm (3/4") to 38mm (1 1/2") thick and 75mm (3") or more wide., one each side (see the drawing below), and measure between them.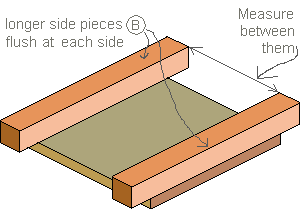 The distance between the two longer side-pieces will be the length to cut the shorter side-pieces, i.e. approximately 9″ (210mm).
Note: Why only 'approximately' 9″ (210mm)? Because the exact measurement will depend on the width of the longer side-pieces.
4) Mark and drill the first piece.
On a shorter side-piece, measure in 3/4″ (20mm) from each end and mark the drill holes. Then drill the holes. Make the hole diameters slightly larger than the wire.

Note: The holes must be straight, and at right angles to the faceThe widest side of a piece of wood. of the woodTimber, lumber. The hard fibrous lignified substance under the bark of trees. If you use a hand drill rather than a drill press, then mark both sides of the wood and drill halfway through from each side.
5) Mark and drill the rest of the shorter side-pieces.
Use the first shorter side-piece (the one prepared in 'step 4') as a template to mark the others.
We will call it the 'template piece'.
Place a couple of nails into the pre-drilled holes in the template piece, and then position it flushBeing even with. on top of another shorter side-piece.
Tap the nails to leave an indent on the lower piece. Remove the template and drill through the indent.
See step-by-step pictures below.
5a Place nails into the holes.
5b Align, tap, and mark.
5c And there are the marks for the holes.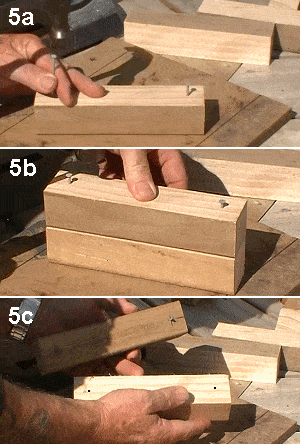 Mark the rest of the shorter side-pieces in the same manner, and then drill them.