Wall Framing Page one
1. Identifying the members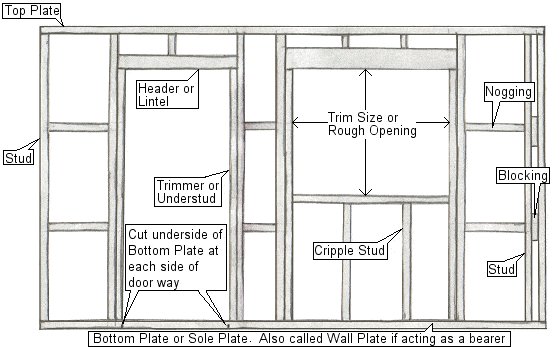 Wall Framing, excepting headers, is usually of 100×50 (2×4) stock, for perimeter or bearing walls. Internal non-load bearing walls can be of 75×50 (3×2) stock.
Partly cut underside of Bottom Plate at each side of doorway before standing the wall frame up. This is to enable the Bottom Plate in the doorway to be cut out (from the top side) when the Wall Frame has been squared, straightened and fixed in place.
2. Marking the Top and Bottom Plates for Studs
First of all, cut all the Wall Plates in place, top and bottom and place on the floor or surface where they are intended to go, just to make sure that they all fit according to plan.
Take the top and bottom Wall Plates of one wall, temporary nail or clamp together and place on a couple of saw stools for marking Stud and Trimmer Stud positions.

The overlapping Wall Frame has a double Stud at the overlap end separated by blocking pieces that are usually the same thickness as the Studs.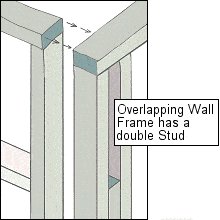 Wall Framing Page two
3. Placing and fixing the Studs
Lay and fix the Studs in place between the Top and Bottom Plates. If the Studs are not straight, lay with the bow upwards.

The length of the Stud should be the required ceiling height less the thickness of the Top and Bottom Plates as well as the thickness of the ceiling lining as well as a bit to play with, say 10mm (3/8″).
4. Placing and fixing the Noggings 

Fix the Noggings and Blocking in place between the Studs. At least one row of Noggings can help minimize twisting and warping.
5. Placing and fixing the Trimmer Studs and Headers
Lay and fix the Trimmer Studs and Headers in place. The Header is usually two 50 (2″) thick pieces of lumber nailed together to form one 100 (4″) thick piece. The width of the Header depends on the required span.
The width and height of the Trim size (Rough opening) should be slightly larger than the actual window or door finished frame size, by at least 10mm (3/8″) .

6. Placing and fixing the Cripple Studs

Just the Cripple Studs to go, which are the short Studs between the Header / Lintel and a Top Plate or between the sill and Bottom Plate.
The Wall Frame is now ready to be squared and lifted into place. The Wall Frame is square when the Wall Plates are straight and the distance between the opposing diagonals are equal.