Instructions continued
Step five: Fix the copper strap 
Nail the copper strap to the slats. See fig.5 below for positioning. Nail as closely as possible to the edges of the slats and pre-drill nail holes through the copper.
Once the copper strap has been fixed in place, take off the two marking sticks and discard them.

Step six: Form a circle 
Roll the slats in a circle and nail through the copper straps where they overlap (fig.6).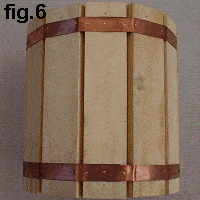 Note: If the gaps are the correct size the circle will be self forming. See the gap equation on previous page

Place a temporary prop under the slat where the copper straps overlap prior to nailing to give support.
<<< see drawing
Step seven: Mark and cut the base 
Stand the bucket on a piece of plywood and mark the base. See fig.7.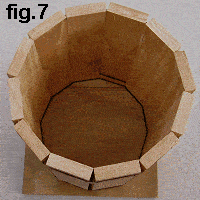 Remove the bucket and cut out the base with a jig-saw.

Step eight: Fit the base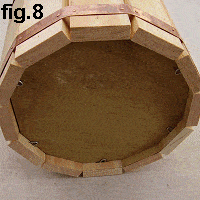 On the inside of the bucket, hammer 18mm (3/4″) staples halfway into every second slat 25mm (1″) up from the bottom. Then sit the plywood base on top of the staples.
Step nine: Add the handle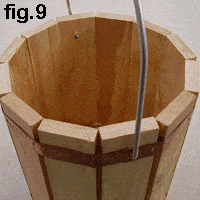 Drill handle holes (the thickness of the handle) through the copper strap and slat at the top of the bucket.
Drill slightly upwards from outside to inside.
Bend the handle to shape and then insert it through the holes.
All done!