Introduction and about the lumber and sizes
Introduction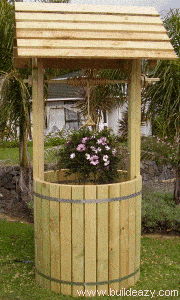 Wishing well project.
This wooden wishing well is relatively easy to construct using common size lumber and will be the feature in any garden or yard.
The wishing well is almost 900mm (3ft)in diameter and stands almost 2400mm (8ft) high. Most of the well is constructed out of surfaced (dressed) 100×50 (2×4) lumber. The exceptions are the roof boards which are from 150×25 (1×6) stock, and the spindle/handle and washers/handle arm which are from 25×25 (1×1) and 100×25 (1×4) stock respectively.
The diameter and height of the well can easily be changed if so required.
The diameter (well width) can made bigger or smaller by simply adding or subtracting the number of palings (vertical wall members) around the cylindrical base.
The height can be altered by making the two extended palings (roof supports) either longer or shorter.
Dimensions for this project are both metric and imperial. All measurements are given in millimeters first, followed by feet and/or inches in brackets ( ). The metric sizes are not an exact match to the equivalent imperial sizes. A wishing well built using the metric measurements will be approximately 1.6% smaller than a wishing well built using the imperial (ft and in) measurements. The imperial measurements are more suited to North America. The metric measurements are more suited to Australasia.
About the lumber and sizes
Use treated lumber or other stock that is suitable for exterior use.
The lumber used for the well base and the roof frame is all surfaced (dressed) 100×50 (2×4) lumber.
When lumber is dressed, the size (width and thickness) becomes less.
Dressed 100×50 (2×4) lumber finishes approximately 90×45 (1 1/2″x 3 1/2″).
100×50 (2×4) is the nominal size, whereas 90×45 (1 1/2″x 3 1/2″) is the actual size.
The rest of the lumber used in this project is sawn or rough-sawn. This means that the wood is not dressed (surfaced) and therefore the actual size is the same as the nominal size.
Sizes do vary from place to place but that will not have any impact on this project.