Other ways to keep gate posts rigid
2:  Other ways to keep gate posts rigid.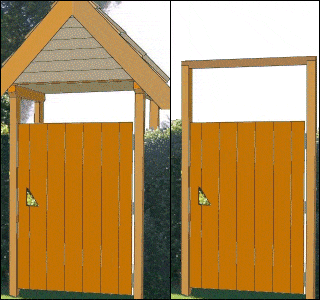 Having a spreader of some type fixed between the gate posts above head height is a good way to ensure that the posts cannot move in towards one another, thus helping to eliminate the possibility of the gate jamming or sagging.
This can be achieved by having extended gate posts and fixing a spreader (beamA supporting member. or headerA beam placed perpendicular to wall studs above doors, windows or other openings, to carry the weight of structural loads. Also called lintel.) in between the two gate posts at least 2000mm (6′-6″) above ground.
Another alternative is to include the gate posts in a walk-through pergolaA structure with open wood-framed roofs, often latticed and supported by regularly spaced posts or columns, and covered by climbing plants such as vines or roses, shading a walk or passageway. Pergolas are distinguished from "arbors," which are less extensive in extent and structure., arborA shelter of vines or branches or of latticework covered with climbing shrubs or vines. A walk through Garden structure that can support plants and generally complements the landscape. or gableThe roof ends and walls that form an inverted "V". roof type construction.