Fitting the gate stops – more recourses 
5:  Fixing the gate stop.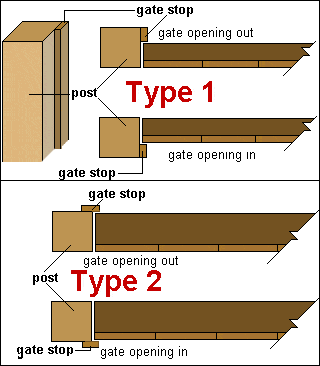 The gate stop is a vertical strip of wood fixed to the post, that will block the gate from going further than intended and help avoid any damage to the gate latch and hinges should the gate be excessively blown or slammed shut for any reason.
The gate stop can be a ripping of 25mm (1″) thick board or similar, and is fixed to the post in such a position that will keep the gate flush with the post when it is in a closed position.
Make the gate stop the same length as the gate and the position will be determined by the thickness of the gate and also by which side of the gate that the hinges are on. (Refer to the diagram.)