Fitting the gate stops – more recourses 
5:  Fixing the gate stopThe part of the plywood wall panels that overlaps the door and window frame, and protrudes into the door or window area and covers any gaps between the door/window and the surrounding frame. It acts as a stop for the door and also stops the rain getting in..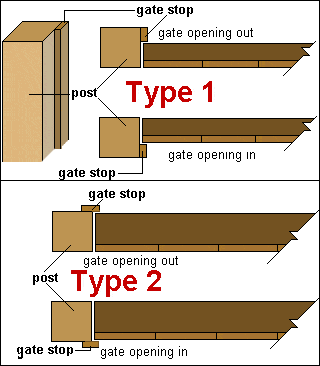 The gate stop is a verticalPlumb, upright. strip of woodTimber, lumber. The hard fibrous lignified substance under the bark of trees fixed to the postsee PILE, that will blockBlocking. A pieces of wood that runs between other members (studs, joists, rafters) to provide support, add strength and/or act as a solid support between panel joins. the gate from going further than intended and help avoid any damage to the gate latchThe locking device on a door or window. and hinges should the gate be excessively blown or slammed shut for any reason.
The gate stop can be a ripping of 25mm (1″) thick boardA piece of sawn, or dressed lumber of greater width than thickness. Usually 19mm (3/4") to 38mm (1 1/2") thick and 75mm (3") or more wide. or similar, and is fixed to the post in such a position that will keep the gate flushBeing even with. with the post when it is in a closed position.
Make the gate stop the same length as the gate and the position will be determined by the thickness of the gate and also by which side of the gate that the hinges are on. (Refer to the diagram.)