Schematics and materials
Schematics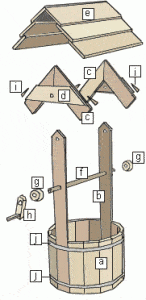 What you will need
Note: All lumberAny of the framing wood. should be pressure-treated or suitable for exterior use.
• 12 meters (40ft) of 100mm x 25mm (1×4) boardA piece of sawn, or dressed lumber of greater width than thickness. Usually 19mm (3/4") to 38mm (1 1/2") thick and 75mm (3") or more wide.;
• 5 meters (17ft) of 150mm x 25mm (1×6) board;
• 1 meter (39″) of 25mm x 25mm (1×1) woodTimber, lumber. The hard fibrous lignified substance under the bark of trees;
• 4 meters (13.5ft) of 30mm (1 1/4″) galvanizedCovered with a protective coating of zinc. metal strapShort lengths of metal strap 25×1 (1/16×1) used to fix members together to resist uplift.;
• 26 exterior type 50mm (2″) long screws;
• 16 exterior type 75mm (3″) long screws for the roof boardsBoards used to cover the roof.;
• two 10mm (3/8″) galvanized bolts 60mm (2 1/2″) long, and
• around 70 of 25mm (1″) galvanized flathead nails.
Alternatives: The 150mm x 25mm (1×6) board for the roof can be replaced with 100mm x 25mm (1×4) board. If so, make adjustments when working out the lumber quantities.
Also, the roof boards do not have to overlap, as shown in the plan – they can be butted up (made flushBeing even with.) to each other. It really boils down to taste.